Dolly Parton announces her new book Behind the Seams: My Life in Rhinestones, an inside look at her iconic fashion and distinctive style, releasing October 17, 2023.
In Behind the Seams: My Life in Rhinestones, global superstar Dolly Parton shares, for the first time, the full story behind her lifelong passion for fashion, including how she developed her own distinctly Dolly style, which has defied convention and endeared her to fans around the world.
"I am happy, proud, and excited to present my book Behind the Seams to the public," Dolly shared. "It is my hope that you will enjoy a look at my life in costume and hair and get to know some of the great people who have helped shape my life and my look. Enjoy!"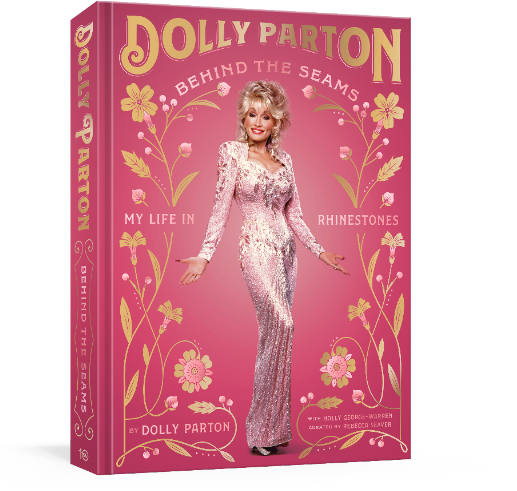 Pre-order Behind the Seams: My Life in Rhinestones
Featuring behind-the-scenes stories from Dolly's life and career, and the largest reveal of her private costume archive, this gorgeously photographed book spotlights her most iconic looks from the 1960s to now. The sky-high heels, famous wigs, bold makeup, eye catching stage clothes—she shares them all. Along the way, Dolly discusses memorable outfits from her past, from the clothes her mother would sew out of feed sacks (including her "Coat of Many Colors") and the bold dresses and hairdos that shook up Nashville, to the bunny suit on the cover of Playboy, evening wear at Studio 54, costumes from her most famous film and TV roles, and the daring styles that continue to entertain and inspire today.
Filled with candor, humor, and lots and lots of rhinestones, Behind the Seams: My Life in Rhinestones—the second book in a trilogy that began with 2020's bestselling Songteller: My Life in Lyrics—is a shining tribute to one of the most beloved musicians in history, a treasured keepsake for anyone who loves Dolly, and an indispensable guide to forging your own path to beauty and confidence.
Now Available for Pre-Order
Behind the Seams: My Life in Rhinestones will be released October 17, 2023, and is now available for pre-order. An audiobook will also be available from Penguin Random House Audio, read by Dolly and including archival audio and music.