Dollywood hosts American Coaster Enthusiasts' 45th annual Coaster Con June 18-21
Dollywood was proud to host the American Coaster Enthusiasts' 45th annual Coaster Con, held June 18-21, 2023. With 6,500 members from 16 countries, American Coaster Enthusiasts (ACE) is the world's largest ride enthusiast organization and is dedicated to the mission of promoting and enjoying roller coasters worldwide. Coaster Con takes place at different host theme parks each year; the event was last at Dollywood in 2012.
Nearly 1,300 members attended, making this year's Coaster Con the largest in its history, breaking the previous record (set last year at Coaster Con 44) by more than 400 guests. In fact, it is believed this event is the largest single enthusiast group meeting ever to take place anywhere in the world. As part of their monumental 45th annual national convention, the group enjoyed a number of special events and activities, including exclusive ride times, lift hill tours, behind-the-scenes tours, and even a Midway Olympics competition.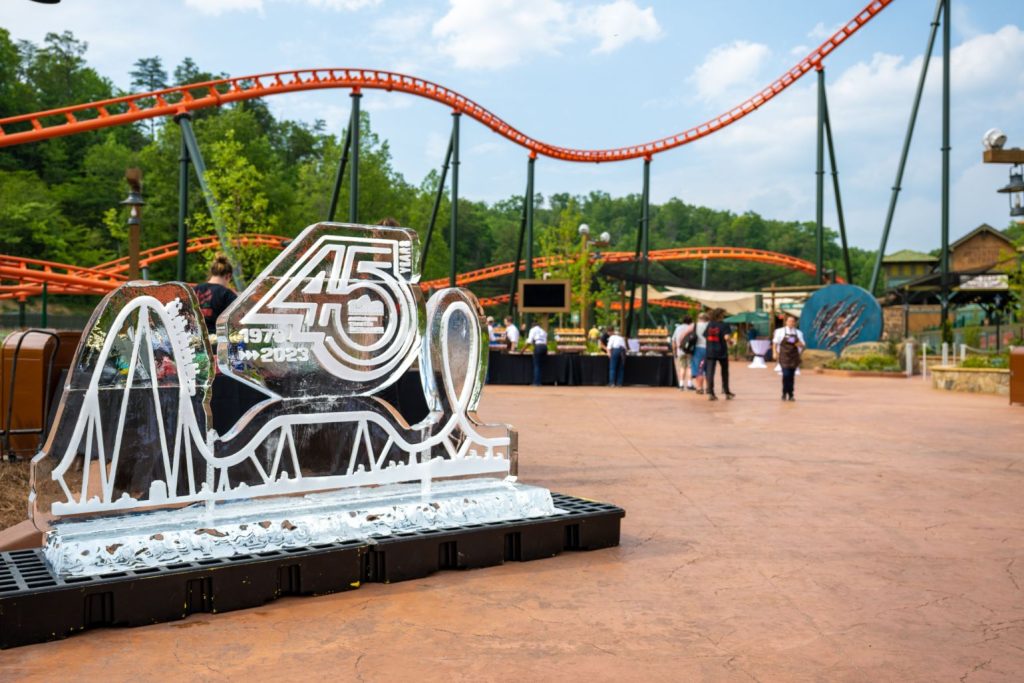 Dollywood's Big Bear Mountain
Coaster Con arrives right on the heels of the opening of Dollywood's newest roller coaster, Big Bear Mountain – the largest single attraction investment in the park's history, which opened in May with much fanfare.
The $25 million Big Bear Mountain roller coaster launches park guests from its ride station on an exhilarating search for the elusive "Big Bear," a mythical bear of epic proportions, which is said to live in the hills near the park's Wildwood Grove area. At 3,990 linear ft., the ride is ¾-mile long and becomes the longest roller coaster at the Pigeon Forge, Tennessee, park. Featuring a top speed of 48 mph, Big Bear Mountain takes guests through three separate launches, multiple airtime hills, high-speed carousel turns, and tunnels, including a pass behind a waterfall.
In addition to becoming the longest roller coaster at Dollywood, Big Bear Mountain–built by ride manufacturer Vekoma—also marks the first attraction at the park to feature on-board audio. The sound system provides auditory thrills to match the ride's dynamic movements as guests come daringly close to Big Bear. The highly-detailed coaster trains resemble four-wheel-drive SUVs and feature working headlights and taillights. Each coaster train seats 20 guests.
"Through the fun story elements and phenomenal theming, you really are immersed in the ride experience," explained Eugene Naughton, President of Dollywood Parks & Resorts. "Add in the audio elements guests experience along the way and you can quickly understand why I believe this is going to be another home run for Dollywood Parks & Resorts. With this expansion of Wildwood Grove, I think we've elevated to being one of the best themed areas of any park in the world."
Festival of Nations kicks off Dollywood's 28th season
Dolly visited Dollywood to kick off one of its biggest seasons to date, beginning with Festival of Nations and the opening of Wild Eagle, America's first wing coaster. The festival's headlining show, "Spirit of the Dance," surprised guests on opening weekend with a walk-on from Dolly herself! Dolly also appeared in two of the festival's other shows, Argentina's "Los Pampas Gauchos" and "The Paper Show by Mimirichi" from Ukraine.
The Dollywood 2012 season received five Golden Ticket Awards for Best Food, Friendliest Park, Best New Ride (Wild Eagle), Best Shows and Best Christmas Event.
Dollywood makes history as they allow guests to soar like an eagle with the park's new steel wing coaster, Wild Eagle
Dolly and Dollywood made history on March 23, 2012, as her theme park launched its new $20 million Wild Eagle, the first steel wing coaster in the U.S. Dolly said,
"Wild Eagle was a long time in the makin' but truly worth every minute as that incredible bird took flight over Dollywood. From everything folks are telling me, Wild Eagle is somethin' else, and I hope folks from around the world come to Dollywood to earn their wings. Or as I like to say, be an eagle not a chicken!"
Wild Eagle at Dollywood won the Golden Ticket Award for Best New Attraction in 2012.