Sony Pictures commits to "Run, Rose, Run" theatrical release starring Dolly Parton, with Reese Witherspoon set to produce via her Hello Sunshine banner.
In a highly competitive bidding situation, Sony Pictures has landed the film adaptation of "Run, Rose, Run," set to star 11-time Grammy-winning and two-time Academy Award-nominated singer-songwriter Dolly Parton.
"I am thrilled to be bringing 'Run, Rose, Run' to Sony Pictures," Dolly shared. "I'm looking forward to working with Sony and being in the movie as well. It's a good time to be excited, working with some of my favorite people."
Dolly's first novel, "Run, Rose, Run," co-written with best-selling author James Patterson, has remained a New York Times best-seller since its publication by Little, Brown & Company on March 7. A novel glittering with danger and desire, the story is about a young woman who heads to Nashville to pursue her music-making dreams and is taken under the wing of a giant female musical icon. The source of their heart-wrenching songs are secrets that both have tried to hide. Featuring twelve original songs that tie into the storyline, Dolly also released a companion album of the same name through her own Butterfly Records, which debuted to number 1 on the Current Country Albums, American/Folk and Bluegrass charts.
"Run, Rose, Run" debuted at the number 1 spot on The New York Times bestseller list and spent 5 weeks at #1, making it the longest-running #1 New York Times bestseller of the decade and the bestselling novel of the year. The book's success led to a fierce bidding war when the film project was announced shortly after, and it was Sony's commitment to a theatrical release that secured the deal.
"Run, Rose, Run" - The Film
Dolly and James Patterson, via his company James Patterson Entertainment, will produce the feature alongside Reese Witherspoon via her Hello Sunshine banner, which worked with Sony Pictures on the upcoming adaptation of best-seller "Where the Crawdads Sing." Lauren Neustadter is also producing for Hello Sunshine with Ashley Strumwasser executive producing, while Maia Eyre will oversee the project for Sony Pictures.
James Patterson said, "I want to watch this movie and say 'I love this film.' And that's exactly why I'm so excited to be working with Hello Sunshine and Sony Pictures. They're the best at what they do."
"Dolly Parton and Jim Patterson. Are you kidding me? An entirely unique dynamic duo. Plus Hello Sunshine! We feel lucky as hell and grateful," said Tom Rothman, Chairman and CEO of Sony Pictures' Motion Picture Group.
Having starred in hit films including '9 to 5," "Steel Magnolias" and "The Best Little Whorehouse in Texas", "Run, Rose, Run" marks the first time Dolly will have a starring role on the big screen since her popular 1992 flick, "Straight Talk." In addition to starring in and producing the film, Dolly will also be writing original songs to be featured in the big-screen adaptation.
Reese Witherspoon shared, "Counting my lucky stars that I get to collaborate with this dream team! Working with Dolly and James, who are both master storytellers, is a dream come true for me. I am overjoyed to have Sony Pictures on board as we work alongside Dolly Parton – a luminous personality, magnetic presence, and brilliant songwriter and storyteller – to bring Dolly's gripping and heartbreaking story to the screen. We hope that this film will not only entertain but also inspire women and girls everywhere to keep dreaming."
Hello Sunshine Partners with Dolly Parton and James Patterson to Produce Their #1 Bestselling Novel, "Run, Rose, Run" as a Feature Film
Dolly Parton is set to star in Hello Sunshine's feature film adaptation of "Run, Rose, Run," her recently-released novel, co-authored by James Patterson.
Dolly and James will produce the feature alongside Reese Witherspoon and Hello Sunshine's President of Film and Television, Lauren Neustadter. Ashley Strumwasser will executive produce for Hello Sunshine.
"I'm proud, excited and honored to be working with my good friend Reese Witherspoon and Hello Sunshine on the movie of 'Run, Rose, Run' from the novel I co-wrote with James Patterson," Dolly said. "James and I love Reese and look forward to working with her and her wonderful team."
The Chart-Topping Novel and Album
Published on March 7, 2022, by Little, Brown and Company, the novel "Run, Rose, Run" debuted at #1 on The New York Times Best Seller list. Dolly also released a companion album of the same title on March 4, 2022, through her Butterfly Records label. The album debuted at #1 on the Current Country albums, Americana/Folk and Bluegrass charts.
Set in Nashville, "Run, Rose, Run" is about a young woman who comes to country music's capital city to pursue her music-making dreams. The source of her heart-wrenching songs is a brutal secret she has tried desperately to hide, but the past she has fled is reaching out to control her future—and it may destroy everything she has worked for.
"It has been a joy working with Dolly Parton on this book," James said. "It's a great story that we are both proud of. And, in partnership with Reese Witherspoon and Hello Sunshine, we will produce a great movie."
From Page to Screen
Reese Witherspoon shared,
"Growing up in Nashville, I've loved Dolly since the moment I heard her magical voice and saw her luminous personality shine onstage. Beyond her magnetic presence as an artist and performer, she is one of the greatest songwriters and storytellers of our time. Her impact knows no bounds — as a musician, actor, writer, businesswoman, activist and all around incredible human being — Dolly Parton is not only an icon to me, but a true inspiration to women and girls everywhere.
"My admiration for [Dolly] grew to even greater heights when reading 'Run, Rose, Run,' a gripping and heartbreaking book I couldn't put down. I couldn't feel more honored to be working alongside her and James to bring this remarkable story to the screen."
"Run, Rose, Run" — Available Now
Get Dolly's latest album, "Run, Rose, Run," available now on all digital streaming platforms and as a digital download, as well as on CD, standard vinyl and some special vinyl color variants. The novel, co-authored by James Patterson, is now available in stores and online in hardcover, ebook and audiobook.
Reese Witherspoon invites Dolly Parton to guest on her new show "Shine On with Reese"
When debuting a new unscripted television series featuring extraordinary women, Reese Witherspoon called on Dolly Parton for the first episode.
In nine unique episodes, the series highlights inspiring women who blazed their own success trails. Reece visited Dolly's home where they sat down to breakfast. They talked, laughed and Dolly even let Reece raid her closet.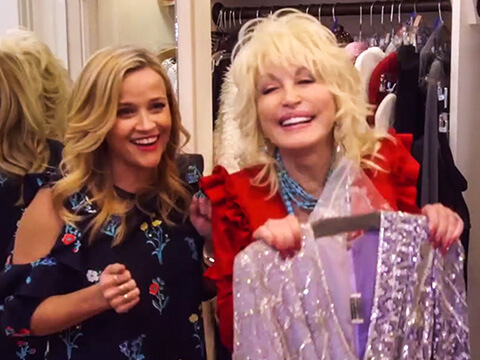 Dolly shares some great stories from her days with Porter Wagoner and from her time on blockbuster movie sets such as "Steel Magnolias" and "9 to 5." She also talks about how she used her dad's advice throughout her career to make some of her wisest moves.
They discussed the challenges faced by women in the entertainment industry and the workplace in general. Both Dolly and Reece champion the need for women to support one another in all walks of life.
Soon, Dolly pulled out her guitar and together they sang Dolly's song, "Coat of Many Colors." They talked about the philosophy of that story and how it is now a book in Dolly Parton's Imagination Library. The Imagination Library, which Dolly started over 20 years ago, has mailed over 100 million free books to children around the world.
Later, when they visit Dolly's chapel, they share a very special moment of inspiration and reflection. Reese talks about how Dolly has inspired her and so many others like her.
Watch the first episode of "Shine On with Reese" starring Dolly Parton for free.
Executive produced by Reese Witherspoon, the show airs on the Hello Sunshine channel on DIRECTV and DIRECTV NOW.
Dolly recognized for lifetime contribution to American culture
Dolly was honored with the Kennedy Center Honors on Dec. 3, 2006, along with classical music conductor Zubin Mehta, musical artist Smokey Robinson, motion picture director Steven Spielberg, and composer Andrew Lloyd Webber. The award recognizes a performing artist's lifetime contribution to American culture.
Steve Buckingham, Dolly's longtime record producer, was not surprised by the honor at all because he feels Dolly's impact has been "huge... not just because of her body of work as a singer and songwriter and an actress but her philanthropic work... That impact isn't limited to this country [U.S.]... I've been around different parts of the world with her, the U.K., Switzerland, Amsterdam, Paris... There's no place you go...  that people don't know her. I always say, the one thing you never hear when you're anywhere with her is, `I wonder if that's Dolly Parton?' because there's no doubt."
Artists who performed or delivered remarks on Dolly's behalf at the ceremony were actress Reese Witherspoon and musical performers Reba McEntire, Kenny Rogers, Carrie Underwood, Alison Krauss, Suzanne Cox, Cheryl White, Shania Twain, Vince Gill and Jessica Simpson.
President George W. Bush praised the honorees for "enriching the cultural life of our country."