Dolly Parton Celebration Coming to Dollywood in 2023, Along With New Roller Coaster and Additional Operating Days
Things certainly are going to be "BIG" at Dollywood in 2023. The Pigeon Forge, Tennessee, park is gearing up for a season that includes the debut of Big Bear Mountain, the longest roller coaster in the park's history, a new celebration of one of Dolly's most iconic songs, as well as 15 additional park operating days throughout the year. With so much big fun in 2023, a Dollywood season pass should be on everyone's wish list. The park opens to the general public on Saturday, March 11.
I Will Always Love You Celebration
New in 2023, guests will be able to celebrate what has arguably become one of Dolly's biggest hits, "I Will Always Love You." To observe the 50th anniversary of this monumental song, the I Will Always Love You Celebration takes place March 11-April 8, kicking off the season with a festive event commemorating the art of songwriting and the stories behind the songs. In addition to honoring Dolly's iconic status as a songwriter, the event will recognize a number of noted singer/songwriters with headline performances throughout the festival. Additionally, the Songwriters' Showcase in Showstreet Palace Theater places the spotlight on a number of up-and-coming songwriters, allowing Dollywood guests the opportunity to enjoy their incredible talents.
Big Bear Mountain Roller Coaster
Set to open in the spring, Dollywood's Big Bear Mountain is the single largest attraction investment in the company's history. The $25 million roller coaster is nearly 4,000 ft. long, features on-board audio and promises guests a thrilling adventure through the hills bordering Wildwood Grove. This expansion of Wildwood Grove—named the industry's Best Kids' Area for three years—takes guests through three separate launches, multiple airtime hills, high-speed carousel turns and tunnels. Big Bear Mountain's 39" inch height requirement allows even younger adventurers to come along for the ride.

Additional Operating Days Throughout 2023
Not only do the rides get bigger in 2023, so does the operating calendar. Dollywood guests and season passholders can enjoy an additional 15 days of fun in the Smoky Mountains next season when compared to the 2022 calendar. The additional days come throughout the year, meaning guests can enjoy more of everything the 2023 season has to offer. The park opens at 10 a.m. every operating day through the Harvest Festival. Operation begins at 11 a.m. during Smoky Mountain Christmas.
Dollywood's Flower & Food Festival presented by Covenant Health (April 21-June 4) blooms bright with iconic Mosaiculture displays throughout the park. Vivid larger-than-life flower sculptures create an immersive atmosphere for park guests as they make their way through more than half-a-million blooms during this stunning festival. In addition, Dollywood's culinary team showcases their world-class abilities with a menu full of delicacies that highlight the tastes of spring in the Smokies.
Dollywood's Sweet Summer Nights drone and fireworks show has become a guest highlight, and it again takes to the skies above Dollywood in 2023 as part of Dollywood's Smoky Mountain Summer Celebration (June 17-August 6). Another favorite — "Gazillion Bubble Show Aurora" — returns to deliver a mesmerizing burst of excitement to guests in DP's Celebrity Theater. The show provides many moments where guests will be enveloped by "gazillions" of bubbles for a fun and unpredictable experience that captivates the entire family. Liquid Beats, Hydro Jive Junction and the Bubble Foam Zone all return in 2023 after their popular debuts during this year's festival.
A family tradition for many, Dollywood's Harvest Festival presented by Humana (September 22-November 4) celebrates the beauty of fall with thousands of carved pumpkins, spirited performances from talented singers and the fun of Great Pumpkin LumiNights presented by Covenant Health. Great Pumpkin LumiNights, which previously has been named the best theme park harvest event in the world, features elaborate displays that are fun for every member of the family. Creative culinary items, accomplished artisans, and fall fun in the Smokies make this a picture-perfect time to enjoy Dollywood.
The industry's Best Theme Park Christmas event — Dollywood's Smoky Mountain Christmas presented by Humana (November 11-January 6) — concludes the park's 2023 season with five million lights, festive holiday shows, and the warm Christmas atmosphere guests have come to expect during this joyous time of year.
Season Pass Options for Every Guest
Dollywood's 2023 season is so big, guests should consider a season pass to ensure they can experience all of the fun! Three season pass levels—Diamond, Gold and Silver—provide great options for every guest, while the popular Pre-K Imagination Season Pass offers free admission all season long to any child born in 2018 or 2019. Passes are on sale now with reduced pricing until October 30 for current Dollywood season passholders and those who pre registered for this special offer. On October 31, season passes go on sale to the general public.
Dollywood Diamond Season Passes provide a premium experience for guests. In addition to admission all season long, Diamond passholders receive Saturday Early Ride Time, four Bring-A-Friend Free tickets, free general parking, the largest discounts on dining, merchandise and lodging, an all-season unlimited refill mug per pass, as well as discounts on TimeSaver passes, VIP tours and preferred parking. In addition, Diamond Season Passes provide the passholder season access to Dollywood's Splash Country.
The Gold Pass represents a tremendous value for guests thanks to Saturday Early Ride Time for the passholder, two Bring-A-Friend Free tickets, free general parking, a one-day unlimited refill mug per pass, as well as discounts on dining, merchandise, and lodging. Both Diamond and Gold passholders also receive access to special "Golden Events," exclusive events an activities just for them. Only the named passholder can receive the perks associated with each pass type.
Gold and Diamond passholders also can take advantage of another great perk, daily "Golden Hours." During the first hour of every operating day, Gold and Diamond Season Passes operate just like TimeSaver passes, allowing the named passholder expedited boarding on Dollywood's world-class rides and attractions.
Silver Season Passes also are available and include two Bring-a-Friend Free tickets and a discount on Dollywood lodging. Select blackout dates apply to Silver Season Passes and Silver Bring-a-Friend Free tickets.
For more information about Dollywood's 2023 season or season passes, please visit Dollywood.com or download the Dollywood app.
Dolly Parton announces Big Bear Mountain, the longest coaster in Dollywood history, opening in 2023.
Dolly Parton announced the newest addition to Dollywood Parks & Resorts, the $25 million Big Bear Mountain, a nearly 4,000 ft. long roller coaster which allows guests to embark on an unforgettable expedition through the Smokies in search of the elusive "Big Bear." Big Bear Mountain, which at 3,990 ft. becomes the longest roller coaster at the Pigeon Forge, Tennessee park, marks the expansion of Dollywood's newest area, Wildwood Grove.
"The Smokies are all about adventure and going exploring," Dolly said. "I'm excited our guests will be able to head out on their own trip into the Smokies to see if they can find that Big Bear! Whether he's out there or not, I'm sure they'll find a lot of memories along the way that they'll keep forever."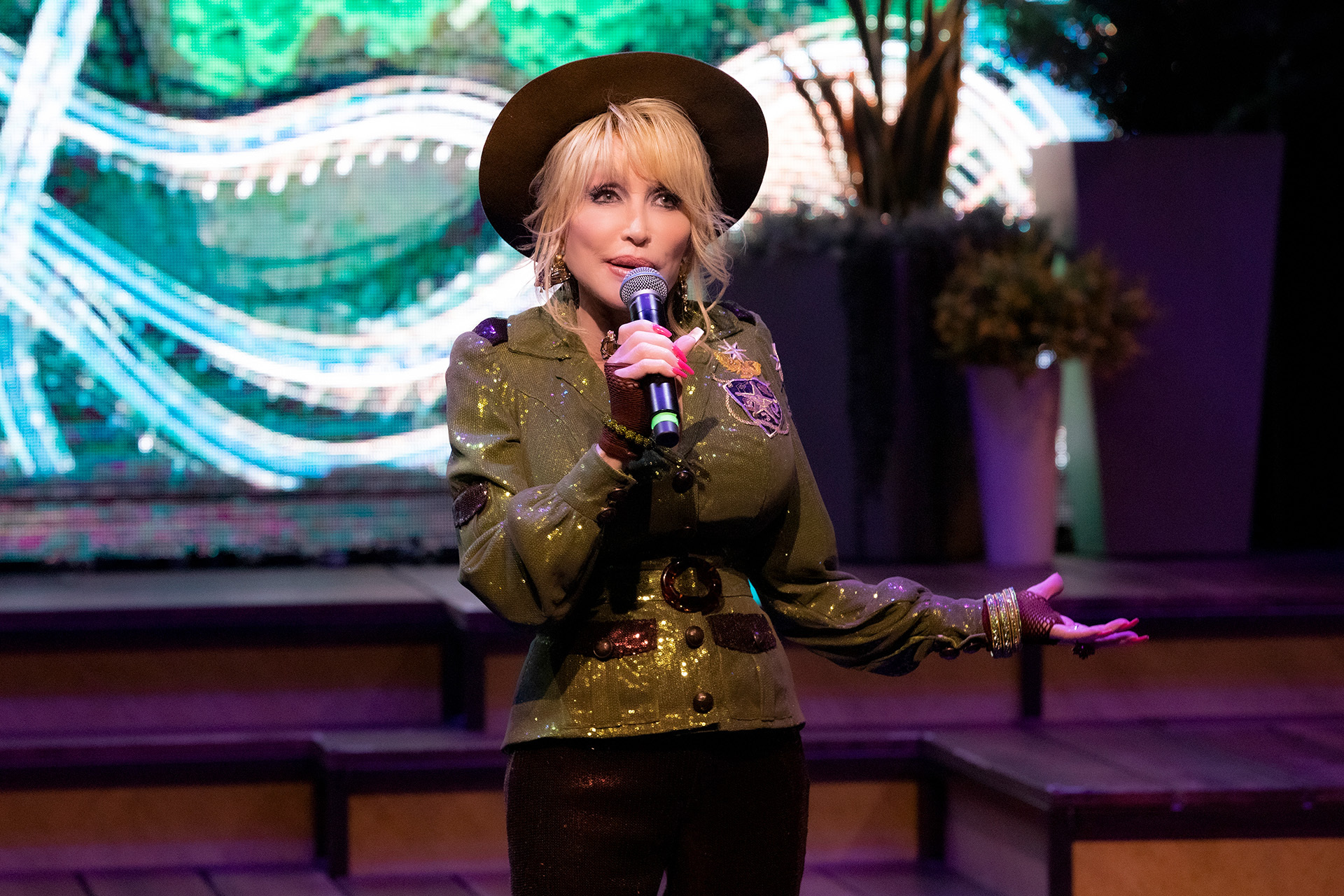 Photo by Curtis Hilbun
Big Bear Mountain's massive structure hugs six acres of undulating topography which runs along the border of Wildwood Grove, with riders racing through the wilderness before soaring high above the forest on the search for the legendary bear. Featuring a top speed of 48 mph, Big Bear Mountain takes guests through three separate launches, multiple airtime hills, high-speed carousel turns and tunnels, including a pass behind a waterfall. And, the minimum height requirement for Big Bear Mountain is 39", allowing even younger adventurers to come along for the ride.
A Daring Adventure Through Wildwood Grove
According to legend, Big Bear is a massive black bear who has been roaming through Wildwood Grove for as long as anyone can remember. While no one has ever seen him, telltale signs regularly appear in the hills surrounding the Grove. Dollywood guests are invited to join Wildwood Grove's resident wilderness explorer, Ned Oakley, on an adventure to find Big Bear. From his base camp, located just a stone's throw from the Grove's Hidden Hollow, Oakley takes adventurers for the rides of their lives in his specially-outfitted, "four-wheel drive SUVs."
The First Dollywood Attraction to Feature On-Board Audio
In addition to becoming the longest roller coaster at Dollywood, Big Bear Mountain, built by ride manufacturer Vekoma, also marks the first attraction at the park to feature on-board audio. The sound system provides auditory thrills to match the ride's dynamic movements as guests come daringly close to Big Bear. Dollywood Company president Eugene Naughton shared,
"Big Bear Mountain is an exciting ride that really is going to be a game changer for us. Not only is it the largest coaster we've built, but it includes features—like on-board audio—that are new for our company. Big Bear Mountain also expands the footprint of Wildwood Grove and serves as another monumental step in the ongoing investment plan Dolly and I announced in June 2021. She's keeping me busy. Now that we've announced Big Bear Mountain, I'll start working on the next projects she has lined up for me!"
Opening Spring 2023
With an anticipated opening date in the spring of 2023, daring adventurers will not have to wait long to join Ned Oakley on his search for Big Bear on Big Bear Mountain. Guests ready to join in the excitement can pre-register for a 2023 Dollywood season pass by visiting Dollywood.com/2023SP from August 5 - September 30. Those who register during this time receive the guaranteed lowest price on passes, as well as access to an exclusive ride event for Big Bear Mountain in spring of 2023. Pre-registrants are able to purchase 2023 season passes beginning October 17.
In 2022, Dollywood celebrates a year full of exceptional experiences, with each season unlike the next. After the conclusion of the Smoky Mountain Summer Celebration, thousands of pumpkins glow to life this fall as part of the Harvest Festival presented by Humana (September 23 - October 29). The season concludes with the most popular theme park Christmas event in the world, Smoky Mountain Christmas presented by Humana (November 5 - January 1, 2023).
For more information about Big Bear Mountain, please visit dollywood.com/BigBearMountain.
Wildwood Grove, nightly fireworks, extended hours highlight summer at Dollywood
With summer quickly approaching, now is the perfect time to enjoy the biggest season in Dollywood's history, as the award-winning vacation destination has a sensational celebration that provides families more time to enjoy together. Dollywood's Summer Celebration (June 22- Aug. 4) features extended park hours—10 a.m. to 9:30 p.m. daily—as well as a nightly fireworks spectacular, thrilling new entertainment and the fun of Dollywood after dark!
Wildwood Grove
For the first time, families can enjoy the beauty of Wildwood Grove in the evening. As the sun sinks in the sky, Wildwood Grove glows warmly as lanterns and lights glimmer like cheerful fireflies. Once darkness falls, the area sparkles as the green, leafy canopy of the Wildwood Tree comes to life each evening in a unique nighttime experience that features nearly 650 lighted butterflies dancing playfully in the warm evening breeze.
[masterslider id="126"]
Thrilling New Entertainment
Summer Celebration also is full of new entertainment offerings, including an exciting production from Dollywood's talented entertainment team called "Summer Feels…" Taking place in DP's Celebrity Theater June 22- Aug. 4, "Summer Feels…" is highlighted by 10 talented performers and six world-class musicians who take audiences on a musical journey through today's hits with a few surprising old favorites mixed in!
Several special entertainment guests visit Dollywood this summer as well. In partnership with Humana, Dollywood hosts the Tennessee Air National Guard Band of the South—which features a concert band, a classic rock and country rock band, and a brass quintet—on Monday, June 24. The group performs multiple concerts at three different performance venues in the park and inspires patriotism by fostering a deep appreciation of the rich history and legacy of the Air Force. One of the group's missions is to increase the public's understanding of the importance of air power, the missions and programs of the Air Force and Air National Guard and the bravery, sacrifice and dedication of Airmen across the globe.
On select Thursdays throughout the summer, WIVK and Dollywood team up to present the New Faces of Country concert series. These concerts at Back Porch Theater offer an intimate setting for fans to hear from some of the genre's next big stars. Be sure to catch them as they begin their rise up the charts! Artists currently scheduled to appear include Adam Craig, Caylee Hammack and King Callaway.
It's story time again as The Little Engine Playhouse showcases three favorite books from Dolly Parton's Imagination Library, including Coat of Many Colors, based on Parton's children's book. Coat of Many Colors and Stand Tall, Molly Lou Melon (new for 2019), feature sing-along songs that kids of all ages will enjoy. Everyone's favorite, The Little Engine That Could, also comes to the stage with a delightful reminder of what can happen with just a little bit of determination.
Award-Winning Rides
While Dollywood guests have an amazing amount of entertainment options to enjoy during their visit, they also can experience the park's award-winning rides in a completely different environment. Once the sun sets, Dollywood's trademark attractions, like Wild Eagle, Lightning Rod and Thunderhead, provide a unique experience for those who climb aboard. These rides thrill guests who race through the summer night with no idea which way the track will turn next!
Dolly's Nights of Many Colors
Each evening during Summer Celebration ends with Dolly's Nights of Many Colors, a thrilling fireworks extravaganza synchronized to music. There is no better way to finish a day with family than by enjoying the moment together.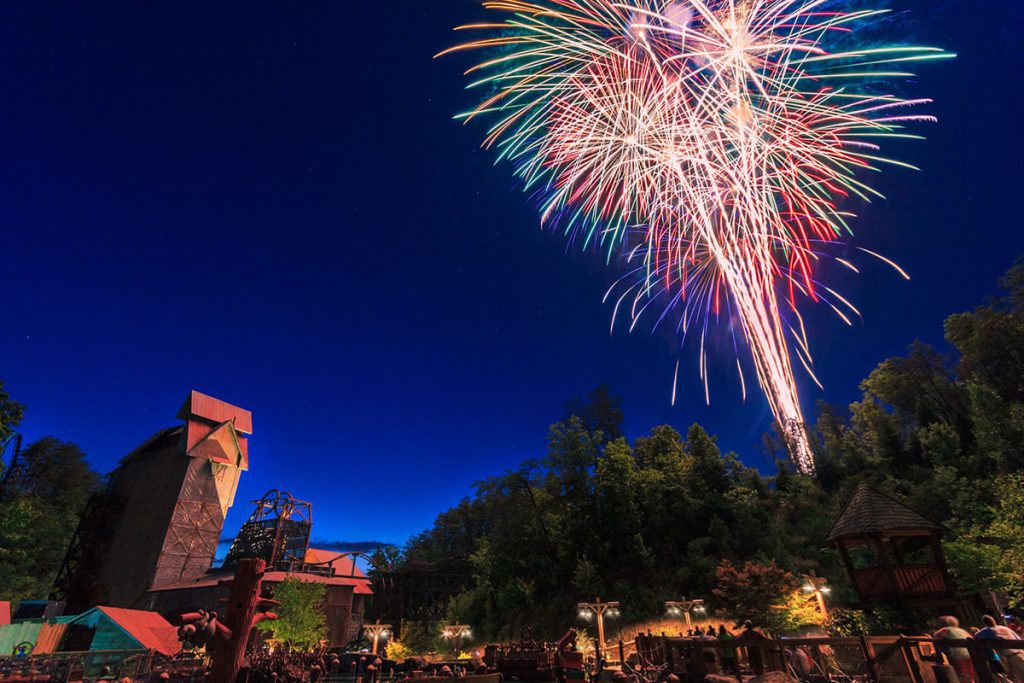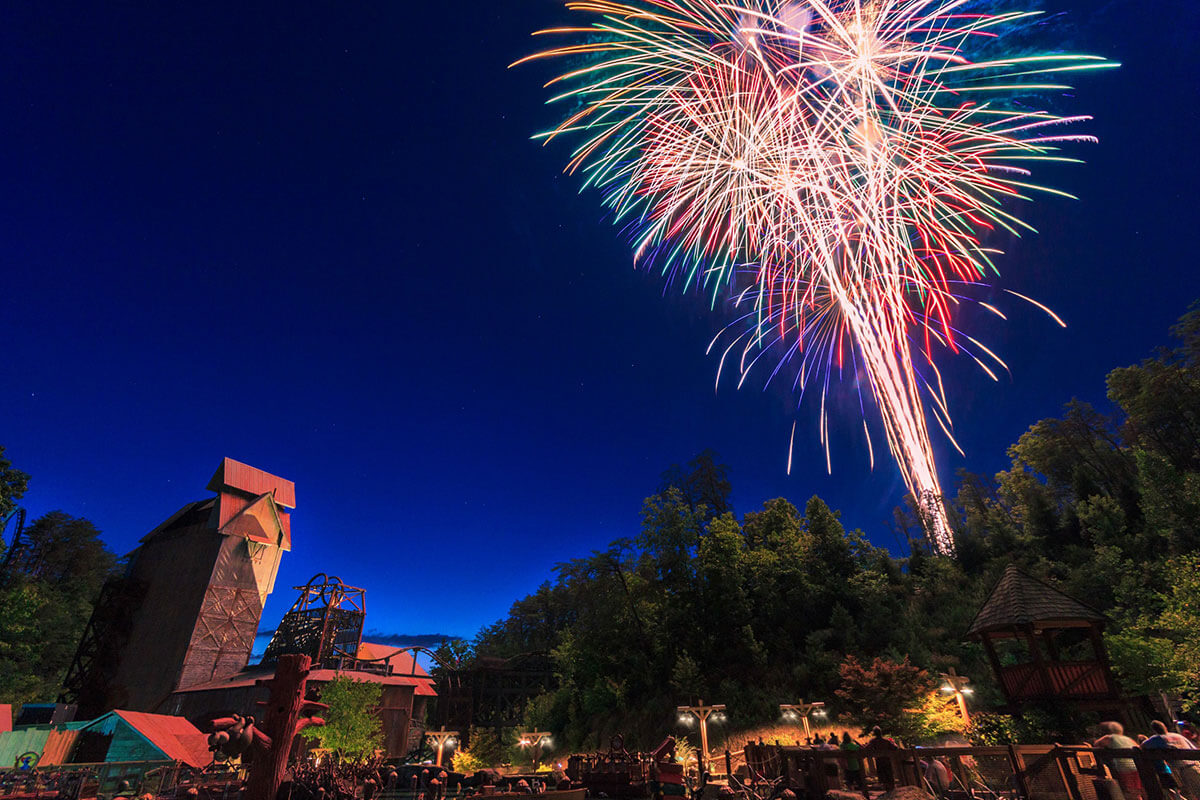 For more information about Dollywood's Summer Celebration, visit Dollywood.com or call 1-800-DOLLYWOOD. For show schedules, park maps and more, download the Dollywood App.
Dollywood officially opens the largest expansion in park history as guests experience $37 million Wildwood Grove.
Dollywood again solidified its place among the nation's premier family destinations as Dolly Parton officially opened Wildwood Grove, the largest expansion in park history. Dolly opened the fascinating new land to visitors ready to enjoy its 11 thrilling new experiences. During an early morning media event, she shared the inspiration and dreams that led to the creation of Wildwood Grove, calling the area the new standard for Dollywood.
At $37 million, Wildwood Grove is Dollywood theme park's largest capital investment ever and is the first new area added to Dollywood since Wilderness Pass in 2008. The biggest adventure in Dollywood's history provides guests of all sizes unique experiences to enjoy together as a family.
"When I was a little girl growing up in the hills of the Smoky Mountains, I'd often let my imagination just run away—something I still do now—dreaming these big dreams about what it'd be like to venture off with a family of bears in to the woods or how fun it would be to hitch a ride with the butterflies and dragonflies," Parton said. "All us kids would splash and play in the creeks and ponds around home and have these daydreams about the world around us, and that's what's so special about Wildwood Grove. We've been able to create a new area to allow families to experience some of those exact dreams we all had when we were little.

"Wildwood Grove is so special to me because so many of the same daydreams and imaginations from my childhood have now found a perfect place at my Dollywood. I hope families will enjoy laughing, playing and exploring together in this great new place that truly does feel like home for me."
The Dollywood Company President Craig Ross explained the significance of the newest addition to the storied theme park.
"Without doubt, this is one of the most exciting days in the history of our company," Ross explained. "It is rare in our industry that a park adds a completely new land in its entirety, and as we continue to grow and set attendance records, we needed to add more area to give guests more room to spread out and explore. Additionally, we were able to take many of Dolly's childhood dreams and create experiences that are uniquely Smoky Mountain-themed and really help tell the story of this beautiful area.
"I know our guests will be thrilled with the great diversity of attractions they will be able to enjoy when they visit Wildwood Grove. We're extremely proud of the fact that there are experiences here that every member of the family will love and enjoy."
[masterslider id="120"]
Photo Credits: Curtis Hilbun
After stepping into Wildwood Grove, imagination takes flight, delivering explorers on a journey of discovery in this breathtaking area. Remarkable sights await visitors throughout the land. In the distance, the breathtaking Wildwood Tree catches the eye as lively butterflies shimmer in the daylight. Families laugh and play, taking rides inside giant acorns at Treetop Tower and aboard a thrilling "leaf boat" on the Great Tree Swing.
Even the bears are friendly in Wildwood Grove, as they let guests meander with them through their own natural habitat at the Black Bear Trail. If smaller guests need a quick break, Hidden Hollow contains a 4,000 sq. ft. climate-controlled area with climbing structures, slides and games where kids and their parents can enjoy play time full of exploration.
Nearby, families scream with delight as they take a ride with Tennessee's state symbol—the mockingbird—in an experience they control themselves at The Mad Mockingbird. Others dip and dart through geysers while suspended from dragonflies on the area's signature ride attraction, Dragonflier.
At the heart of it all is The Wildwood Tree. This focal point is a beacon for all, drawing families to watch the butterflies play in its leafy canopy, while encouraging others to splash and play in the winding creek that flows at its base. As the daylight fades, families can bask in a colorful kaleidoscope of summer fun as the area glows to life.
Wildwood Grove also features new merchandise and dining options for park guests. Till & Harvest, which is expected to open around Memorial Day, provides the perfect blend of Smoky Mountain flavors and fresh Mexican cuisine. The menu features a variety of build-your-own style entrees such as burritos, bowls, salads and nachos all filled with wood-fired meats, fresh vegetables and flavorful sauces. Along with the Smoky Mountain Mexican flavors, Till & Harvest also provides a spacious open-air patio for families to enjoy the sights and sounds of Wildwood Grove while they enjoy their meal.
Mountain Grove Merchants is the one-stop-shop for guests looking for the perfect gift or souvenir to celebrate their adventure in Wildwood Grove.
Nearly $1 million has been invested in Wildwood Grove's landscaping, with more than 400 trees and 2,300 shrubs creating a beautiful, yet decidedly natural atmosphere to enjoy. As the landscaping continues to mature, the visual appeal of the area will only increase.
Each day of exploration in Wildwood Grove is an experience families don't want to miss. These merry memory making moments are certain to become a treasured part of every family's visit.
Wildwood Grove Facts
The Wildwood Tree comes to life each evening during a unique nighttime experience which begins June 15. Each season of the year features a spectacular new experience for guests. The Wildwood Tree features nearly 650 lighted butterflies (orange, blue, yellow, pink and multi-colored) and almost 9000 leaves.
Dragonflier— This thrilling suspended roller coaster lets guests soar with a dragonfly as it dips and darts along the gushing geysers and lush landscape of Wildwood Grove. (Vekoma 453m suspended coaster) (1486 ft. in length)
Black Bear Trail— Riders hop on the back of these friendly bears for a spirited trek through their natural habitat. (Metallbau Emmeln Pony Trek)
Great Tree Swing— Guests aboard this thrilling "leaf boat" swing back and forth just like a leaf falling from a giant sycamore tree. (Zamperla Galleon)
Treetop Tower— This family tower gives guests a sky-high view of Wildwood Grove as they soar nearly 40 feet in the air. Riders, seated inside giant acorns, spin around the top of a tall oak tree before gently drifting back to the grove floor. (Zamperla Samba Tower)
The Mad Mockingbird— Tennessee's state bird—the mockingbird—gives visitors a lift as it flies in a high speed circle around a tall tree. Riders control their ride experience by moving a sail as the birds rush above the ground. (Larson Flying Scooter)
Frogs & Fireflies— Adventurous guests can hop aboard one of these friendly frogs as they chase each other in a spirited race around the lily pad. (Zamperla Jump Around)
Hidden Hollow— This 4,000 sq. ft., climate-controlled area allows families to explore and play in an indoor environment.
Wildwood Creek features pop jets, splashing pools and more wet play activities, while the dry play area at Wildwood Creek features "music instruments" for guests to enjoy.
Three new costume characters call Wildwood Grove home. Flit and Flutter serve as Wildwood Grove's ambassadors and Benjamin Bear loves to make new friends. Characters will have scheduled opportunities to meet guests each day.
For more information about Wildwood Grove or Dollywood's 2019 season, please visit Dollywood.com or call 1-800-DOLLYWOOD.
Two new headline acts and World Passport to Food highlight season opener
Dollywood's thrilling 2019 season begins with one of the park's greatest Festival of Nations lineups ever! The event, which runs March 16-April 14, features exhilarating new headline shows, the return of the Passport to Food and special cooking demonstrations, including opportunities to see world-renowned Chef Pepin whip up his favorite dishes. Season pass holders can visit a special preview day event on March 15.
Guests can experience the spirit of the Smokies at Dollywood while also taking a trip around the globe thanks to authentic glimpses into a number of fascinating cultures. It's a vibrant and exciting way to celebrate spring break!
New Headline Acts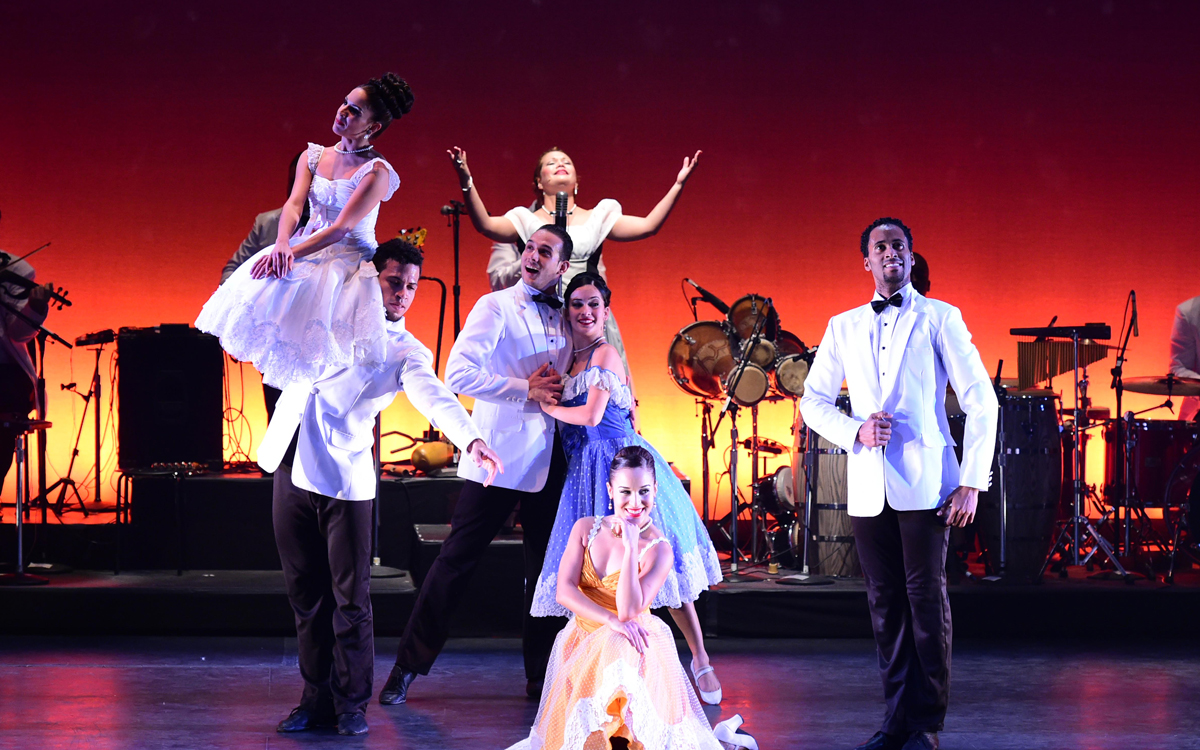 Lizt Alfonso Dance Cuba is a fusion dance and music company that mixes Hispanic and Caribbean cultures into each performance. Considered to include some of the best performers from Cuba, the group has been together for more than 25 years and has entertained on five continents. Lizt Alfonso Dance Cuba can be found in DP's Celebrity Theater.
Billed as the first interactive drum-theater experience, Drumstruck leaves families laughing and creating memories to remember for years to come. As guests enter Showstreet Palace Theater, they will find drums placed in each seat throughout the venue. Members of the audience use these drums to become part of the show, playing along with the performance on stage. This high-energy production weaves South African music and culture with West African rhythms.
Passport to Food
This expanded international menu lets guests enjoy savory and sweet delights from a number of countries, including grilled beef skewers from Trinidad, poutine and fried cheese curds from Canada, and beef bulgogi nachos over wonton chips from South Korea. A number of refreshing drinks also are available and serve as the perfect complement to the delectable dishes available as part of the passport. A wide range of international pastries and desserts tempt those with a sweet tooth.
Chef Pepin, a well-known celebrity chef from Cuba, hosts several cooking demonstrations during the opening weekend of the festival, while additional chefs share their secrets each subsequent weekend during Festival of Nations. Cooking demonstrations currently are scheduled to take place each Saturday and Sunday at noon and 2 p.m. in Dollywood's Market Square area.
Dollywood's 2019 Festival of Nations Lineup
Invaders Steel Orchestra- One of the world's oldest and most respected steel drum bands, Invaders Steel Orchestra celebrates more than 75 years of creating festive music for audiences around the world. This guest-favorite group returns to Dollywood to bring the tropical sounds of the Caribbean to the foothills of the Great Smoky Mountains. While the songs they play are familiar, the unique sounds of Invaders Steel Orchestra's drums will transport guests to a sandy beach far away.
Location: The Valley Theater
Atahualpa – Hailing from Ecuador, Atahualpa combines native Incan instruments with contemporary backups to celebrate the history and culture of the Andes Mountains. Atahualpa's mix of songs includes contemporary music, South American dance rhythms, and the traditional music of the Andes. Through their sharing of music, culture, and heritage, Atahualpa hopes to promote brotherhood, friendship and peace to all the people of the world.
Location: Showstreet Gazebo
De Temps Antan – Traveling from Quebec, Canada, De Temps Antan explores and performs the time-honored melodies from Quebec's musical past. This talented trio combines contemporary music, uncontrolled laughter, deep-routed couplets and sudden, impromptu shifts for memorable songs that speak to the familiar rhythms of yesteryear.
Location: Back Porch Theater (Performing March 16- 24)
Les Grands Hurleurs – Les Grands Hurleurs of Quebec, Canada has pushed boundaries and incorporate a variety of musical influences for their own special sound. Paying respect to their traditional roots while creating original music, this trio flirts with classical, Manouche, electronica and folk music for shows that bring audiences alive. Prepare to experience a musical journey with groovy, energetic and swing styles.
Location: Back Porch Theater (Performing March 27- April 14)
More 2019 Fun!
The largest expansion in the park's history, Wildwood Grove, opens this spring to provide families with thrilling new experiences and attractions for guests to explore together. Summer kicks off with Dollywood's Barbeque & Bluegrass (May 24- June 2), while the park's Summer Celebration (June 22- Aug. 4) features later hours and the first chance to experience the wonder of Wildwood Grove at night. Dollywood's Harvest Festival presented by Humana (Sept. 27-Nov. 2) features Southern gospel's greatest performers alongside the guest-favorite Great Pumpkin LumiNights. Dollywood's 2019 season concludes with the eleven-time winner for Best Theme Park Christmas Event, Dollywood's Smoky Mountain Christmas presented by Humana, Nov. 9-Jan. 4, 2020.
If there has ever been a year to take advantage of the value of a Dollywood season pass, this is it. With the opening of Wildwood Grove and a vast amount of entertainment and festivals (all included with park admission) available throughout the season, guests certainly will want to make several return visits in 2019.
Guests can learn more about Dollywood's biggest season ever by visiting Dollywood.com or calling 1-800-DOLLYWOOD.