Most-honored park wins for best entertainment, Christmas event, food and friendliness
The winningest park in Amusement Today's Golden Tickets history, Dollywood again this year earned more category wins and finalist positions than any other park in the world. During the magazine's 2017 awards ceremony, Dollywood picked up four "best of" awards. The park also placed in the top-ten in six additional categories.
2017 Golden Ticket Wins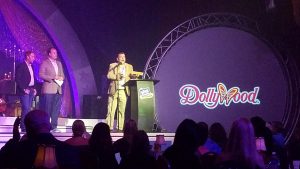 Sixth Consecutive Win - Friendliest Park
Ninth Consecutive Win - Best Shows
10th Consecutive Win - Best Christmas Event (the only park to ever earn this award)
Fourth Win In This Category - Best Food
The Golden Ticket Awards are the most sought after awards in the business of amusements and attractions. Dolly Parton said,
"You all know how very proud I am of my Dollywood and the special folks who work there. It makes me feel so good to know that our guests feel the same way about the park when they come visit us. It's the perfect place to help them make those memories they're always going to hold close. Our people do a great job of doin' just what my mama always used to say—they treat our guests just like they'd want to be treated. And isn't that what really makes the difference?"
Dolly continued,
"Families can feel the love our folks have for them by the effort and attention they put in to every single detail of the park. They want to make sure every guest leaves with a smile on their face. Dollywood will continue to grow, but I'm thankful my team will never forget what got us to where we are: going above and beyond to give our guests experiences they'll always remember."
2017 Golden Ticket Top-Ten Category Finishes
Second Place - Cleanest Park
Third Place - Best Park
Fourth Place - Best Water Park for Dollywood's Splash Country
Fourth Place - Best Landscaping
Fifth Place - Best Wooden Coaster for Lightning Rod
Eighth Place - Best Wooden Coaster for Thunderhead
Tim Baldwin, Golden Ticket Awards Communications Coordinator for Amusement Today said,
"It has been incredibly exciting to watch Dollywood — which was a relatively unknown contender when the Golden Ticket Awards started in 1998 — become this theme park industry powerhouse. Dollywood not only places as a finalist in more categories than any other park, it has taken top prize in four categories — again, more than any other park. Dollywood is setting the bar, and other parks would be wise to look at their example. It's certainly a park to watch."
Tim went on to say,
"Dollywood is the whole package — great food, entertaining shows, friendly hospitality and great rides. It's little surprise to see them capture the attention of our voters. Each year, our selected panel has an incredible amount of worldwide experience, so to be honored on a worldwide scale in so many categories is an amazing accomplishment."
About Golden Ticket Awards
Calculated from an international poll conducted by Amusement Today, the industry's leading trade publication, the Golden Ticket Awards are the results of a detailed survey sent to a database of experienced and well-traveled amusement park fans around the world in balanced geographical regions. The survey asks voters to rate the "best" in a number of categories. Categories include best parks, roller coasters, water rides, shows, kids' area, landscaping and Christmas events. The Golden Ticket Awards were held on Saturday, Sept. 9 at Lake Compounce amusement park in Bristol, Connecticut.
Other Dollywood Awards This Season
USA Today's 10Best recognized Dollywood as the third best theme park in the country. And the organization also named Dollywood's Splash Country the eighth best water park. The National Amusement Park Historical Association also named Dollywood as their "Favorite Theme Park" this year. Dollywood edged Walt Disney World for first, a position the Florida attraction had held for thirteen consecutive years. The NAPHA also honored Dollywood's Smoky Mountain Christmas as their "Favorite Post-Summer Season Amusement Park Event." Fox News recognized the park as the top Small Town Theme Park thanks to its location in the foothills of the Smokies.