Thrilling new attractions, extended hours and popular guest favorites return during Dollywood's Smoky Mountain Summer Celebration June 17 – Aug. 6
Guests have a range of experiences to enjoy throughout the day and into the night at one of the nation's top theme park destinations during this year's Smoky Mountain Summer Celebration at Dollywood, happening June 17- August 6. With the addition of the park's newest thrilling attraction, Big Bear Mountain, this surely is a summer to remember in the Smokies.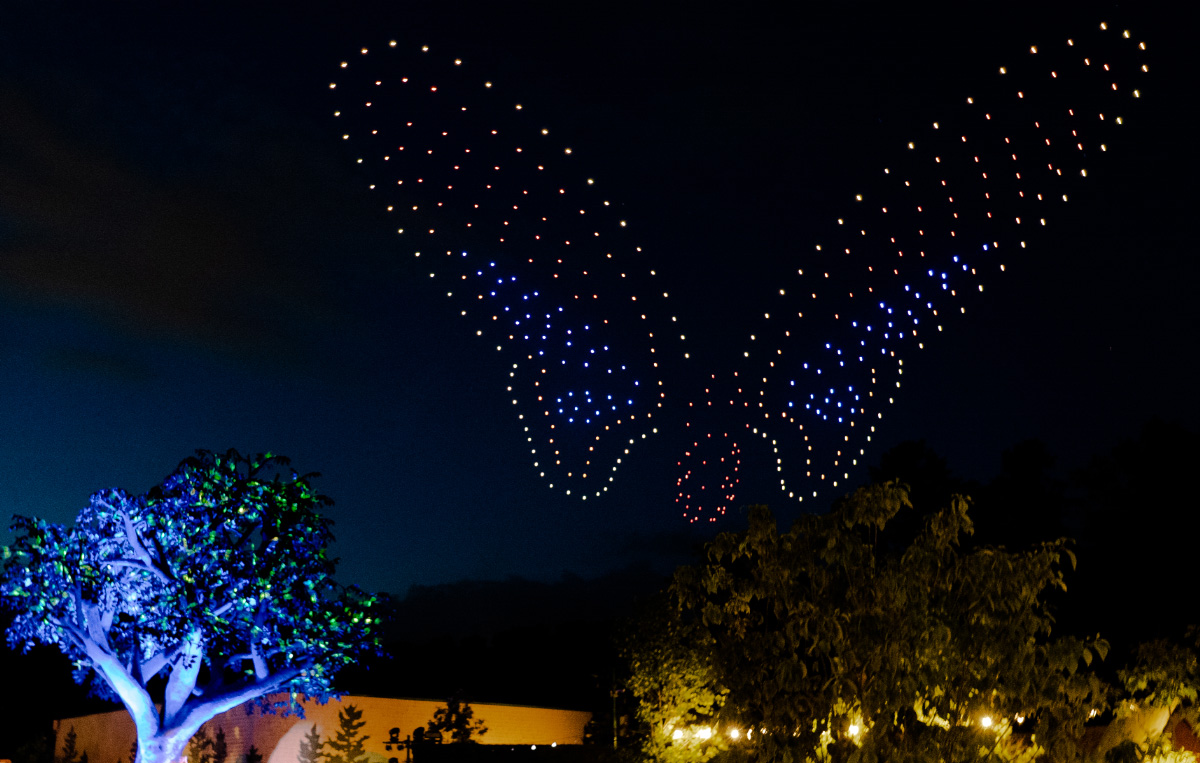 Sweet Summer Nights
Two of Dollywood's biggest summertime traditions return due to tremendous feedback from park guests. "Dollywood's Sweet Summer Nights" returns bigger, brighter and bolder with even more drones lighting up the night sky high above the Pigeon Forge park. A first-of-its-kind theme park spectacle when it debuted in 2021, the guest-favorite is back with a show that combines 500 high-tech drones with a world-class fireworks extravaganza designed to put an exclamation point on the evening.
As part of the Sweet Summer Nights experience, a DJ and energetic dancers bring fun to the streets of Wildwood Grove during two dance parties that will have everyone on their feet. As the party nears its conclusion, the celebration takes to the sky as the drones, operated by Dollywood's partner Dronisos, launch into the air for an unforgettable display.
Interactive Shows and Refreshing Performances
The Gazillion Bubble Show also returns in 2023 with a mesmerizing burst of excitement for guests in DP's Celebrity Theater. The show provides many moments where guests will be surrounded by "gazillions" of bubbles for a fun and unpredictable experience that captivates the entire family.
Smoky Mountain Summer Celebration features so many fun ways for guests to interact with water during their Dollywood day. Interactive shows "Liquid Beats" and "Hydro Jive Junction" will have guests splashing and singing along during refreshing performances.
Guests can cool off on a hot summer day in the wonderful water hose fountain installation found in Market Square during "Liquid Beats." This interactive performance brings together dozens of water hoses to create a fountain that delivers cooling excitement to guests of all ages. During "Liquid Beats," a landscaping-themed percussion troupe maintains the natural beauty of the Smokies, as they bring this new entertainment vision to guests. In Jukebox Junction, "Hydro Jive Junction" features a musical maintenance worker trying to repair a faulty fire hydrant. Dancing ensues as the fire hydrant turns into a refreshing sprinkler for guests to enjoy, as the cast sings and dances to familiar favorites such as "Singing in the Rain" and "Splish Splash."
Music is the soundtrack of our lives, especially during a summer family road trip. Dollywood's Entertainment Team brings to life the road trip "vibe" and takes guests on a summertime journey with the return of "Good Vibes" and its playlist of summer road trip classics. The Tones and Good Vibes have summer playlists that will have families wanting to hit cruise control and sing along.
An authentically-Southern summer greets guests as soon as they enter the park. The Dollywood entry statement in front of Showstreet Palace Theater welcomes guests with themed décor, including Kite Sky. Throughout the park, larger-than-life activities, including Jumbo Backyard Games, Parachute Play Party, Noodle Takeover (a dazzling array of suspended pool noodles hanging in the summer sky) and more, allow parents to relive beloved childhood pastimes while creating new memories with their kids. The Bubble Foam Zone will cool guests off on the hottest of summer days by covering families head to toe in a giant bubble-filled plaza.
Two new experiences highlight the festival this summer. Oscillation, created by The Urban Conga, features giant crystals that come alive through movement. The installation acts like a theremin, an unusual musical instrument that is played without touch. As guests walk toward the piece, it plays different sounds and pitches which vary based on the distance from it. Also new is Noodleville, a walkthrough experience that features 520 pool noodles in a 12 ft. by 24 ft. area. Kids—and kids at heart—will enjoy walking through this fun, tactile installation.
Imagination Playhouse Takes the Stage
It's story time again as The Imagination Playhouse showcases three favorite books from Dolly Parton's Imagination Library, including "Coat of Many Colors," based on Parton's song and children's book of the same name. This season's featured shows are "Coat of Many Colors," "Violet the Pilot" and "The Little Engine That Could." The shows feature sing-along songs that kids of all ages enjoy. Thanks to Penguin Books, guests can enjoy several decorative and interactive photo opportunities for children and their families in the lobby of Heartsong theater prior to each show.
Summer Tasting Pass
Dollywood's culinary team is cooking up the tastes of summer with mouthwatering hibachi skillet chicken, ultimate pork rind nachos and the antipasto salad. Guests also will enjoy sweet treats, including a s'mores funnel cake and refreshing paleta flavors including mango and cookies & cream. Thanks to the Smoky Mountain Summer Celebration Tasting Pass, the tastes of summer are now available with a convenient option to sample multiple items for one price. The tasting pass, which can be purchased in the park or online, is $36.99 plus tax or $33.99 plus tax for gold and diamond passholders. The tasting pass is available each day of the festival.
Dollywood's DreamMore Resort and Spa
Guests at Dollywood's DreamMore Resort and Spa also can soak up the summer fun and sun during Dollywood's Smoky Mountain Summer Celebration. Filled with live entertainment, family activities, spa specials and more, the resort is the perfect home away from home for guests on their summer adventures.
Resort guests will enjoy daily live entertainment with daily roaming performers including The Roberts Sisters and Willow Osborne. On select nights of the week, a variety of performers will delight guests in the Atrium, including Owen Tharp, Melissa Hale, Tommy Cox, Jesse Blue Eads and more. Guests can see the Sweet Summer Nights fireworks display each night from The Swimming Hole side of the resort.
Additionally, Camp DW offers a variety of festival-inspired activities each day including butterfly canvas painting, magnet painting, tie dye, dream jars and more. On select days, Camp DW will host the Giant Beach Ball Bash and pool games at The Swimming Hole Outdoor Pool. In the evenings, families can join Camp DW hosts around the wood-burning fire pit for complimentary s'mores roasting and bedtime stories in The Barn from 7 – 8 p.m. Guests also will enjoy Family Movie Nights and Pillow Making on select evenings.
Special summer-themed menu items are cooked up by the resort's culinary team, while festival-inspired treatments are available at The Spa.
Plan Your Visit
During Smoky Mountain Summer Celebration, guests can take advantage of extended summer hours allowing them to make memories until 9:30 p.m. For more information about Dollywood, please visit dollywood.com or download the Dollywood App.