Fall paints Dollywood with a colorful brush during National Southern Gospel & Harvest Celebration in October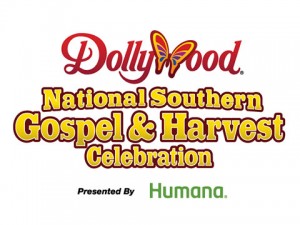 With sweet melodies drifting through the crisp, autumn air, Southern gospel music is well represented during Dollywood's National Southern Gospel & Harvest Celebration presented by Humana (Oct. 2- 31).
Once again, Dollywood is home to a packed slate of Southern gospel's premier talent. Among this year's new acts are Ernie Hasse & Signature Sound (Oct. 4-5) and The Collingsworth Family (Oct. 7). Guests can see concerts from a number of returning Dollywood favorites including Guy Penrod (Oct. 16-17), The McKameys (Oct. 9-10), Karen Peck & New River (Oct. 2-3), The Isaacs (Oct. 19) and The Booth Brothers (Oct. 15-16).
Many other artists take to the stage throughout the festival including special concerts on the Praise 96.3 FM and Singing News stages. Dollywood's own Kingdom Heirs also play prominently throughout the festival. Incredibly, guests can experience more than 350 concerts, all free with park admission, during the festival. Dolly said,
"Some of my earliest memories of singing come from the days when my family would stand up on the stages of those little churches here in these beautiful mountains. I'll always remember how it felt when the trees were painted in those bright colors and the sounds of Southern gospel music echoed through the hills. I'm glad we're able to recreate that for our guests thanks to these talented artists during my National Southern Gospel & Harvest Celebration. I love to see—and hear—Dollywood during this time of year!"
Although performing during the festival for the first time, The Collingsworth Family has made Dollywood's award-winning rides, food and entertainment a tradition for years. After making many trips to the park, they are eager to share their talents with Dollywood guests. Phil Collingsworth Sr. said,
"It's with great excitement that we anticipate our first performances during this year's National Southern Gospel & Harvest Celebration at Dollywood. After enjoying many Dollywood visits as an integral part of our family's vacation schedule, it's a delight to be a part of the celebration professionally. Thank you to Dollywood for offering 30 years of great American family fun!"
The McKameys, who hail from nearby Clinton, TN, also have enjoyed spending time at Dollywood through the years. Peg McKamey said,
"Singing at Dollywood has always been a great honor for us. The facilities are wonderful and there is always an atmosphere of worship. It is a family-oriented place and we are so blessed to have Southern gospel music there during the month of October. We know the fans will enjoy every day of the festival!"
See the complete concert schedule for Dollywood's National Southern Gospel & Harvest Celebration
Additionally, more than 40 visiting artisans from around the country join Dollywood's own master artisans. Daily craft demonstrations illustrate how many of America's vital products were made for centuries. During the festival, Dollywood also celebrates Tennessee Craft Week, Oct. 2-11. Celebrating fifty years, Tennessee Craft, formerly The Tennessee Association of Craft Artists, is a nonprofit organization working to continue Tennessee's fine craft tradition.
Among the crafts, Dollywood guests can observe during the National Southern Gospel and Harvest Celebration are banjo and fiddle making, loom weaving, rug hooking, basket weaving, paper marbling, felt hat making and much more. Products for purchase also include dulcimers, various forms of jewelry, chainsaw carving, bentwood boxes, stained glass artwork and more.
Finally, Dollywood perfectly captures the essence of fall with perfectly-themed menus which take advantage of the crops from a bountiful autumn harvest. Special food locations feature various recipes including fresh apples, corn and much more.
Learn more about Dollywood's National Southern Gospel & Harvest Celebration