Dolly Parton releases new fragrance line, Dolly – Scent From Above, in partnership with Scent Beauty.
Dolly Parton is thrilled to announce her first-ever signature fragrance in partnership with Scent Beauty. Dolly – Scent from Above is butterflies, hearts and hope. A true inspiration from rags to rhinestones, Dolly spreads love and hope around the world. Dolly said:
"I call my Dolly perfume "Scent from Above" because it is excellently heavenly. I hope you feel as blessed and as pretty as I do when you wear it."
The fragrance transports us to a place where everything is possible. Flowers blossom with rhinestone hearts and playful butterflies. Notes of mandarin, peony blossoms, jasmine, vanilla, sandalwood, musk and patchouli are truly Scent from Above.
Stephen Mormoris, CEO of Scent Beauty said, "Dolly Parton is a cultural icon that's resonating with people all over the world. She is cross-generational. We're honored that she chose to work with Scent Beauty for her first foray into the world of beauty and see this as the start of a long-term, successful partnership."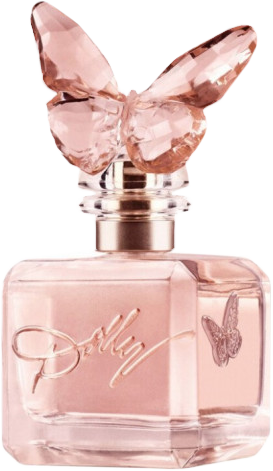 Available Starting July 28
In addition to Scent Beauty's website, HSN will launch the fragrance exclusively on July 28th followed by additional mass market retailers. "As an admired musical icon and adored philanthropist with her endless contributions spanning over several decades, we are excited to add Dolly's fragrance to our portfolio and share her inspirational story with our customers" said Bridget Love, GMM, VP Beauty Merchandising, QVC & HSN.
Dolly – Scent from Above Eau de Parfum will be available at ScentBeauty.com and HSN.com beginning July 28th. Ancillary products including a body cream will also be available.
GET IT ON