Dolly Sends Sunshine and Warm Wishes This Spring
After the cold winter months, there's so much for everyone to look forward to with the arrival of spring. The birds start chirping, the flowers start blooming and sunshine warms our days and our hearts. Dolly sends some of that sunshine our way by sharing what she loves about springtime.
"I just want to take a minute to wish everybody a happy springtime! What I love about spring is that the days start getting longer, the sun seems to shine a little brighter, and we really get to see all of God's beauty blossom right in front of our eyes. There may be a few April showers here and there, but you know what I always say, 'If you want the rainbow, you gotta put up with the rain!'"
SPRING INTO FAMILY FUN
Dollywood welcomes guests to celebrate the beauty of springtime during their annual Flower & Food Festival presented by Covenant Health, happening April 22 – June 5. This popular event delights guests with hundreds of thousands of brilliant flowers, truly bringing spring in the Smokies alive throughout the park. And, in 2022, this event blooms with even more fun and discovery around every corner, thanks to several new larger-than-life Mosaicultures floral sculptures.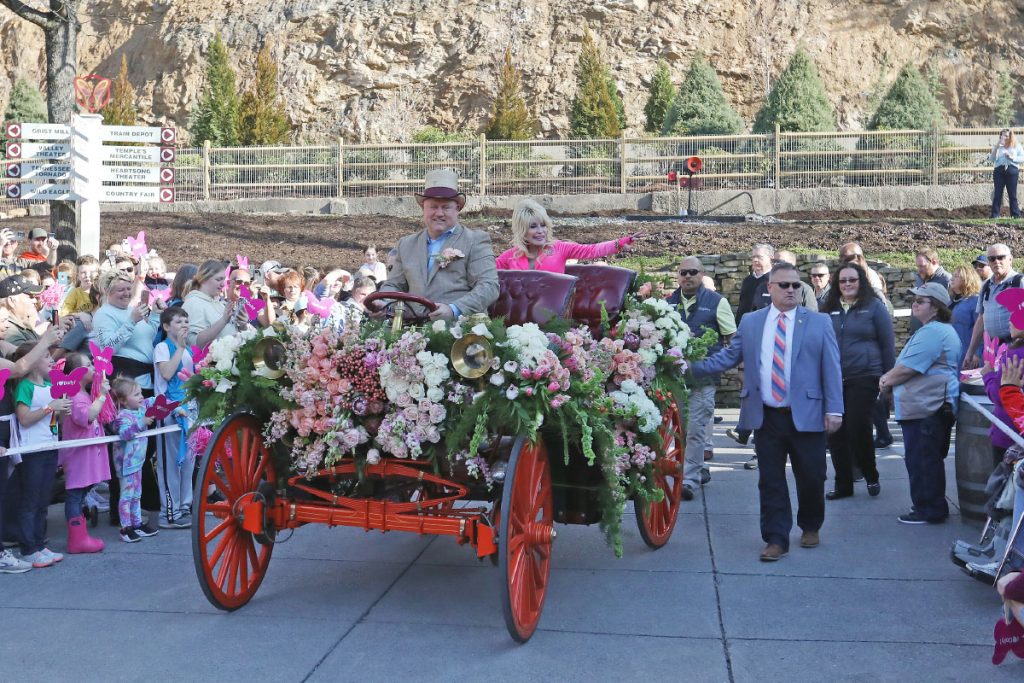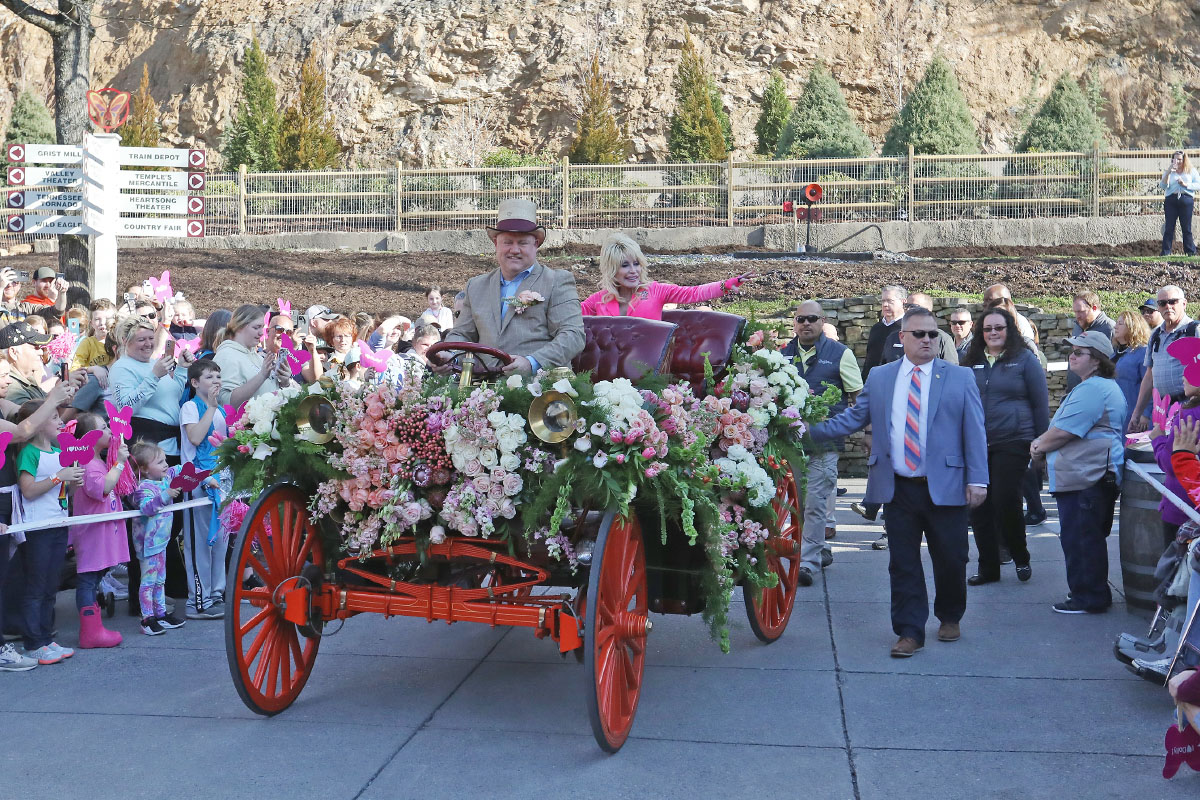 Dolly's Stampede in Pigeon Forge and Branson welcomes families to kick off the spring season with an evening of action-packed fun. Enjoy a bountiful four-course feast while delighting in a thrilling show filled with singing and dancing, impressive horse-riding stunts, family-friendly comedy and more.
At Pirates Voyage Dinner & Show in Pigeon Forge and Myrtle Beach, buccaneers of all ages are invited to set sail into a fun spring season. This exciting adventure features everything from pirates battling for hidden treasure to high-diving mermaids, plus a delicious Pirate Feast. Come join in the fun!
NEWS WORTH SHARING
Imagination Library Celebrates Expansion
Dolly's Imagination Library welcomes the arrival of spring by celebrating the growth of the childhood literacy program, putting free books into the hands of more children than ever before! In Canada, the Imagination Library recently kicked off the province-wide expansion of Dolly's book gifting program across Newfoundland and Labrador. In the United States, the Imagination Library celebrated National Read Across America Day (March 2) by announcing that the program would be expanding statewide in Washington!
Dolly Hosts the Academy of Country Music Awards
Dolly took the stage on March 7 to host the 57th Academy of Country Music Awards, which streamed live without commercial interruption from Allegiant Stadium in Las Vegas. Dolly's hosting appearance marked the first time the awards show was broadcast in the streaming format, airing exclusively on Prime Video.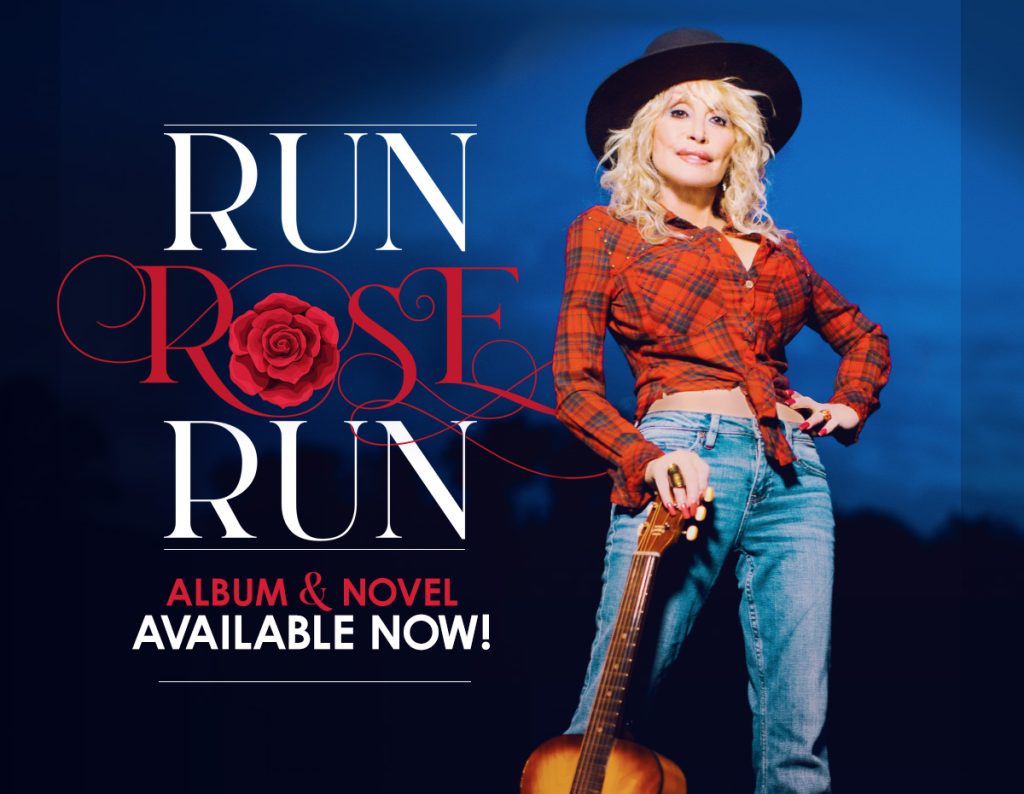 DOLLY'S FIRST EVER NOVEL – "RUN, ROSE, RUN"
Dolly's eagerly-anticipated first novel, co-authored with New York Times Best Seller James Patterson, is now available. Glittering with danger and desire, "Run, Rose, Run" is a thriller about a young singer-songwriter on the rise and on the run, determined to do whatever it takes to survive. This riveting novel is now available for purchase in hardcover, ebook and audiobook.
The Companion Album
Dolly's latest album, "Run, Rose, Run," serves as a companion to the original novel, enhancing the reader's experience with 12 original songs by Dolly that tie into the book's story line. The album is available now on all digital streaming platforms and as a digital download, as well as on CD, standard vinyl and some special vinyl color variants.
Dolly to Star in "Run, Rose, Run" Feature Film
Dolly is set to star in Hello Sunshine's feature film adaptation of "Run, Rose, Run," her recently-released novel, co-authored by James Patterson. Dolly and James will produce the feature alongside Reese Witherspoon and Hello Sunshine's President of Film and Television, Lauren Neustadter.
Official "Run, Rose, Run" Merchandise
Exclusive "Run, Rose, Run" merchandise, created for Dolly's latest album and book release, is available now! Each item complements the story and music as told by Dolly Parton.
SONGS OF SPRINGTIME
Spring is a time when all the world bursts forth with the beauty of new life. As sunlight breaks through the rain clouds, take time to look for the rainbows that start to appear. Let this beautiful time of year bring you joy and fill your heart with a song.
"Together You and I"
Together you and I can stop the rain and make the sun shine
Paint a pretty rainbow brushed with love across the sky
Together you and I belong like a songbird and a song
And we'll always be together you and I
Love,