Dolly Parton's My People Fund donates $200,000 to eight volunteer fire departments and their training center. Tennessee House of Representatives honor Dolly Parton.
On Saturday, March 16, Dolly Parton met with all of the Fire Chiefs in Sevier County at Dollywood's DreamMore Resort and Spa. In recognition of their instrumental role in fighting the 2016 wildfires, The Dollywood Foundation's My People Fund donated $20,000 to each volunteer fire station and gave $40,000 to their area training center. In total, Dolly presented them with $200,000 for their brave service to the community.
"It is only fitting that the last of the My People Fund will go to those who were the first to respond to the fires," said Dolly Parton.
Tim Baker is the Chief of Waldens Creek Volunteer Fire Department and current President of the Sevier County Fire Chiefs Association. He said, "We are so thankful for this donation to all of the fire departments and for our training center. The Waldens Creek VFD will use part of the money to purchase gear and part of the money to replace the roof on the station."
According to Chief Baker, the training center donation will help build a new classroom. The training center is located on Center View Road, on property donated by the county. It's used by all fire departments in the county as well as local law enforcement. Chief Baker said,
"This is fantastic. We needed about $40,000 to meet our goal for the classroom and now we have it!"
Tennessee House of Representatives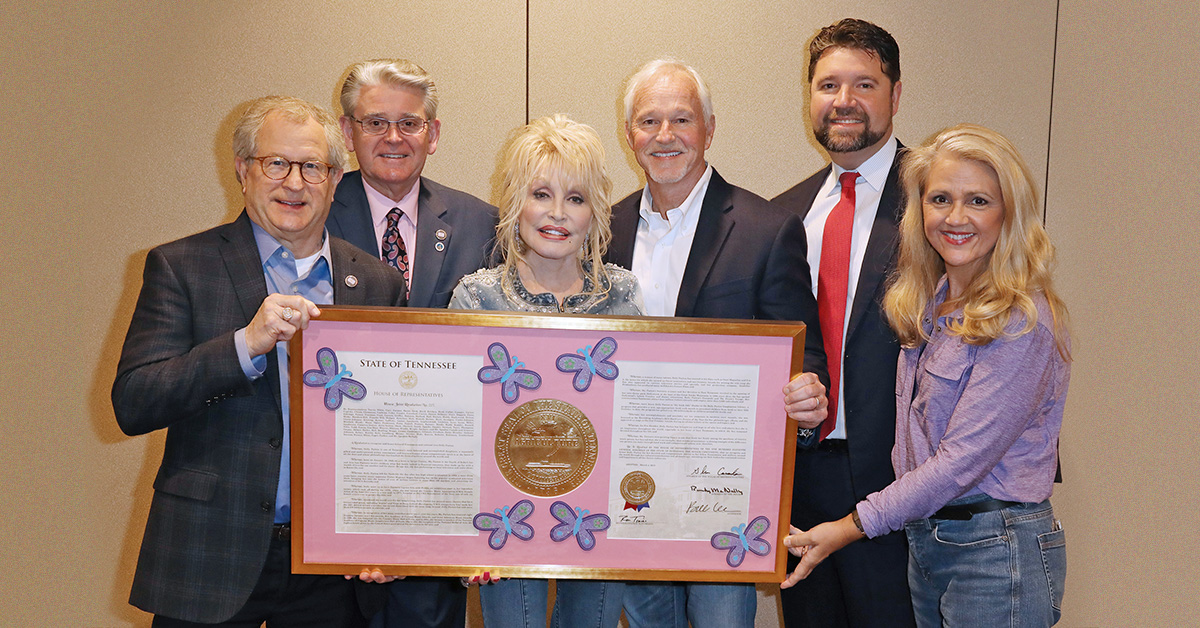 In conjunction with this donation, the Tennessee House of Representatives presented Dolly Parton with a resolution to recognize and honor her as one of Tennessee's most beloved and accomplished daughters.
Pictured from Left to Right: Mark White, Dale Carr, Dolly Parton, Ron Travis, Andrew Farmer and Robin Smith
About My People Fund
The Dollywood Foundation established the My People Fund just 48 hours after the 2016 wildfires. In the weeks and months following, the Fund provided $1000 each month for six months to Sevier County families whose homes were uninhabitable or were completely destroyed in the Smoky Mountain wildfires. Any family who lost their primary residence (renters and homeowners) due to the wildfires in Sevier County were eligible. Due to the tremendous outpouring of donations and support, the final distribution checks were $5000 (per family).
Photo Credits: Curtis Hilbun
Pictured Above from Left to Right: Pete Kilman, Marvin Rolen, Tim Baker, John Satterfield, Heidi Satterfield, Dolly Parton, Joe Fields, Stephen Walley, Chris Young, Tony Patty, John Linsenbigler