Netflix presents "Dolly Parton: A MusiCares Tribute," premiering April 7, 2021.
On Wednesday, April 7, "Dolly Parton: A MusiCares Tribute" will premiere on Netflix. It's a star-studded evening of music and memories featuring a community of iconic performers. Dolly changed the world, song by song and this special tribute celebrates everything her fans love about her artistry, compassion and generosity.
Dolly is the first artist from the Nashville music community to receive this honor. Her considerable creative accomplishments and longtime support of several causes, including her Imagination Library, led the Recording Academy™ to honor Dolly with this prestigious award in 2019. Since 1995, Dolly Parton's Imagination Library® has gifted more than 154 million books to children from birth to five years of age in the United States, the United Kingdom, Canada, Australia and the Republic of Ireland.
Dolly's Awards
The Recording Academy™ has recognized Dolly throughout her career, most recently when she received the GRAMMY® for Contemporary Christian Music Performance/Song for her duet with Zach Williams, "There Was Jesus." This was Dolly's 11th GRAMMY win, including her Lifetime Achievement Award and MusiCares Person of the Year Award.
Catch Dolly's November Television and Streaming specials including Netflixs' premier of Heartstrings on Nov. 22 and NBC's 50 Years at the Grand Ole Opry on Nov. 26.
Leading up to Thanksgiving, Dolly fans will have plenty to chat about around the family table this Turkey Day with the debut of "Dolly Parton's Heartstrings" on Netflix (Nov. 22) and the two-hour NBC special "Dolly Parton: 50 Years at the Grand Ole Opry" (Nov. 26).
"Dolly Parton's Heartstrings" Premiers November 22
Netflix subscribers have been eagerly awaiting the debut of "Dolly Parton's Heartstrings" for several months. Eight stories focused on faith, love and forgiveness, all inspired by Dolly's iconic songs, will be available on Nov. 22.
[su_vimeo url="https://vimeo.com/371187724/218d5b150f" height="440"]
"Dolly Parton: 50 Years at the Grand Ole Opry" Airs November 26
Dolly is also gracing the small screen on network television with the two-hour special "Dolly Parton: 50 Years at the Grand Ole Opry" airing on NBC on Nov. 26 at 9 PM EST. The special was filmed back in October during Dolly Week at the Opry. It features new interviews and Opry performances from Dolly and her "Trio" pal Emmylou Harris. A host of other artists are featured including Dierks Bentley, Chris Janson, Toby Keith, Lady Antebellum, Margo Price, Hank Williams Jr. and more.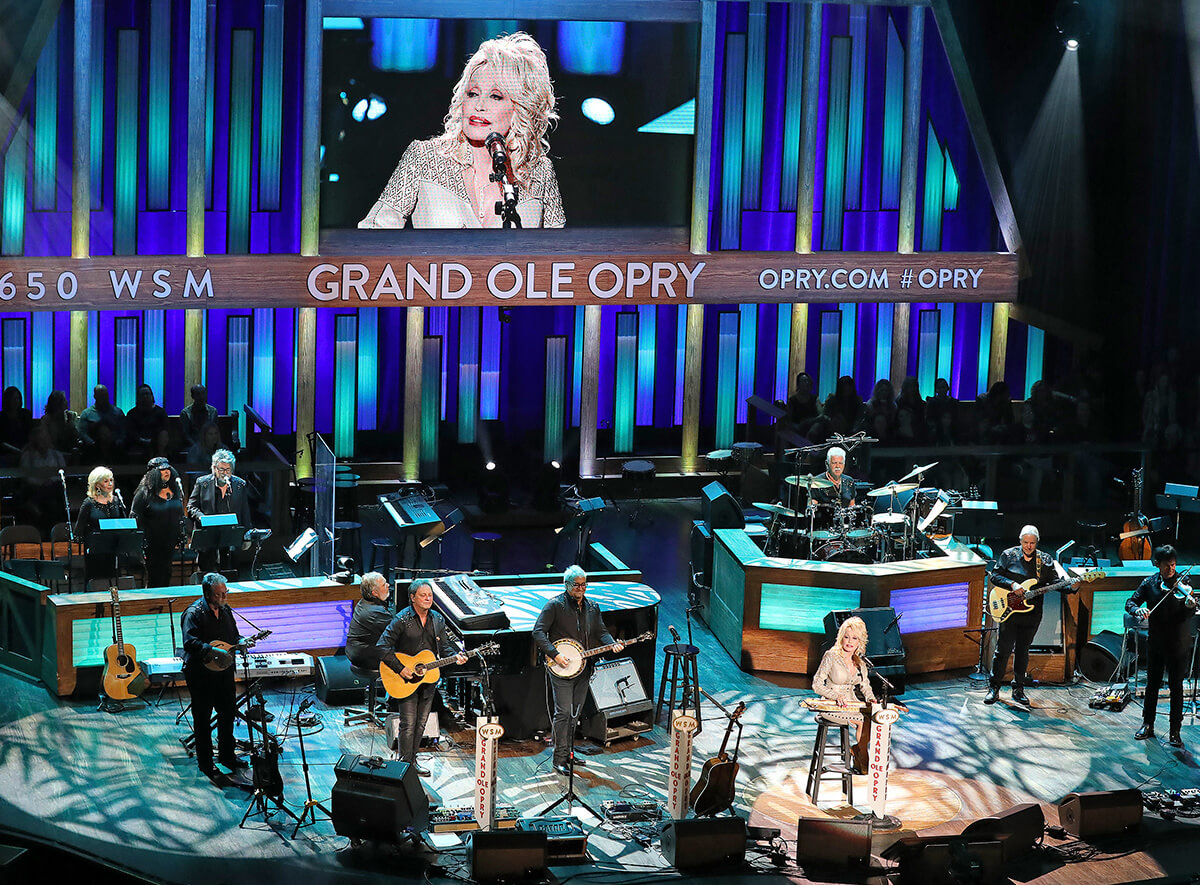 © Grand Ole Opry | Photo by Curtis Hilbun
The Tonight Show Starring Jimmy Fallon
As both events are set to premiere, Dolly makes her rounds promoting, most recently appearing on The Tonight Show Starring Jimmy Fallon where she shared the origin of her two biggest assets.
[su_youtube_advanced url="https://youtu.be/d_lhwfwosto" height="340" rel="no" modestbranding="yes"]
CMA Awards & Good Morning America
Heartstrings and Opry special come on the heals of Dolly's monumental night of co-hosting the CMA Awards with Reba McEntire and Carrie Underwood. And, in case you missed it, the night before the CMA Awards, Good Morning America's Robin Roberts hosted Dolly during the ABC special "Dolly Parton: Here She Comes Again!"
Dolly's recent collaborations have earned two 2020 Grammy Awards nominations
Following an extremely busy year, Dolly is closing 2019 on another high note. After being a special guest host at "The 53rd Annual CMA Awards," celebrating legendary women in Country Music, this living legend is making headlines again with two 2020 Grammy Awards nominations!
"What incredible news to be nominated for two Grammy Awards! It is always such a sweet thing when your peers recognize and celebrate the music you make. To have a nomination with Linda Perry for 'Girl In The Movies,' the song we wrote together for Dumplin' means so much. And then to share another with my new friends Joel and Luke Smallbone from for KING & COUNTRY on our duet 'God Only Knows'...well, I am one happy girl today!"
2020 Grammy Awards Nominations
Best Contemporary Christian Music Performance/Song
With the success of "God Only Knows," in collaboration with KING & COUNTRY, Dolly received a nomination for Best Contemporary Christian Music Performance/Song. This award is given to the artist(s) and songwriter(s) (for new compositions) for the best contemporary Christian pop, Christian rap/hip-hop, or Christian rock single or track.
Best Song Written For Visual Media
Based on the novel by Julie Murphy, Netflix film Dumplin' released in 2018 featured Dolly Parton's uplifting song "Girl in the Movies." This dreamy ballad led to Dolly & Linda Perry receiving a nomination for Best Song Written For Visual Media. A Songwriter(s) award. For a song (melody & lyrics) written specifically for a motion picture, television, video games or other visual media.
To date, Dolly has earned 49 Grammy Awards nominations and has taken home eight Grammys.
Grammy Awards are set to air on January 26, 2020, on CBS.
Watch the first trailer for "Dolly Parton's Heartstrings" coming to Netflix on Nov. 22!
"Dolly Parton's Heartstrings" features eight stories focused on faith, love and forgiveness all inspired by Dolly's iconic songs. Netflix has released the first full trailer in preparation for the premiere on Nov. 22.
[su_vimeo url="https://vimeo.com/371187724/218d5b150f" height="440"]
See the stars of "Heartstrings" with Dolly at the red carpet premiere at Dollywood.
"Dolly Parton's Heartstrings" Episode Guide
Episode 1 These Old Bones
Ginnifer Goodwin (Once Upon a Time) and Katheleen Turner (Romancing the Stone, Peggy Sue Got Married) headline the episode with Kyle Bornheimer also signed on for the episode.
Episode 2 – If I Had Wings
Gerald McRaney (The A-Team, House of Cards), Delta Burke (Designing Women), Ben Lawson (Designated Survivor, No Strings Attached) and Tim Reid (WKRP in Cincinnati) feature in this episode.
Episode 3 – JJ Sneed
Willa Fitzgerald (Scream: The TV Series), Colin O'Donoghue (The Rite) are both scheduled to headline this episode.
Episode 4 – Jolene
This episode features a star-studded lineup with Julianne Hough being the main draw but also featuring Kimberly Williams-Paisley (Father of the Bride), Dallas Roberts (3:10 to Yuma) and Wynn Everett (Charlie Wilson's War).
Episode 5 – Cracker Jack
Sarah Shahi (Bullet to the Head) will play the role of Lucy Jane bu Rochelle Aytes (Trick 'r Treat) playing Scarlett.
Episode 6 – Sugar Hill
The cast of Episode 6 is perhaps the most unknown and includes Timothy Busfield from The West Wing as Logan Cantrell.
Episode 7 – Down From Dover
Robert Taylor (Longmire) will play the role of Reverend Covern. Bellamy Young (Scandal), Holly Taylor (The Americans), Camryn Manheim (The Practice) and Shane Paul McGhie (After) also feature.
Episode 8 – Two Doors Down
Melissa Leo (The Fighter), Ray McKinnon (Rectify), Catherine Dyer (The Blind Side) and Katie Stevens (Faking It) feature.
Watch the full season on Netflix starting November 22, 2019.
Dolly Parton And IMG Partner To Launch Licensed Products Worldwide
Dolly Parton, the most honored female country musician of all time, has appointed IMG as her first exclusive global licensing representative. Parton is already a client in North America of IMG partner company WME, where she signed in 2018.
The multi-year partnership will see IMG work with Dolly to create a lifestyle brand that will provide engaging new touchpoints for the eight-time Grammy Award winner's fans around the world. A diverse range of licensed consumer product initiatives will be explored, including everything from fashion and jewelry to homeware and accessories. Dolly said,
"I am excited to be working with IMG on a global scale to give my fans products that they will cherish for years to come. You might even see my mug on a mug!"
"I'm so excited for Dolly to partner with IMG globally. Dolly's brand is already proven and we are excited to take it to the next level," said Dolly's Manager, Danny Nozell, CEO of CTK Management.
Gary Krakower, Vice President of Licensing, IMG, said, "Dolly Parton is an international icon and we are thrilled to be working with her. Together, we look forward to building cohesive lifestyle brand products that will celebrate Dolly and bring her iconic style and personality to her millions of fans worldwide in engaging new ways."
Achieving 25 RIAA certified Gold, Platinum and multi-Platinum awards, Dolly Parton has had 26 songs reach No. 1 on the Billboard country charts, a record for a female artist. In addition to the Grammy's, she has had 10 Country Music Association Awards, five Academy of Country Music Awards, four People's Choice Awards, and three American Music Awards, and has sold over 100 million albums worldwide.
In fall 2019, Netflix will release an eight-part anthology film series called Heartstrings through Dolly's Sandollar Productions in association with Sam Haskell's Magnolia Hill Productions. Each film in the series will center on one of her masterful songs. This year also marks the 33rd anniversary season of Dollywood, Dolly's theme park in Pigeon Forge, TN, which has hosted more than two million visitors annually since its opening in 1986.
Photo Credit: Rob Hoffman