Tis the Season for Christmas at Dolly Parton's Stampede
Experience the spirit of Christmas at Dolly Parton's Stampede Dinner Attraction this holiday season. Now through January 5, 2019, families can create new traditions at America's #1 Choice For The Holidays! With a full-scale living Nativity, four-course feast, and an arena full of the merriest sights and sounds, every guest will leave jollier than Old Saint Nick.
Live Nativity
To celebrate the reason for this holiday season, guests will watch a special re-enactment of Jesus' birth with Mary, Joseph, three wise men, and a living Nativity with live camels, donkeys, and sheep. This touching scene reflects on the importance of Christmas.
Toys Come To Life
Taking a whimsical turn, The Sugar Plum Fairy brings a number of toys to life for a magical celebration in "Toys Come to Life." Including stunning aerial displays set to the unforgettable music of The Nutcracker, families can watch in awe as their childhood fantasies come to life.
Stampede's 32 magnificent horses, not to be confused as Santa's reindeer, will race one another in exciting competitions as audience members cheer their respective sides of the North Pole and South Pole to victory. And after the arena is transformed into a winter wonderland of glistening snow, Old Saint Nick arrives by sleigh to complete the festivities.
The entire holiday experience is enhanced by the state-of-the-art, LED wall in the show's 35,000-square-foot arena, which seamlessly complements the exciting action with stunning holiday scenery. Guests will feel as if they have been instantly transported to the clear skies above Bethlehem on the night of Jesus' birth.
Four-Course Holiday Feast
Adding to the lineup, Christmas dinner includes Stampede's signature four-course feast consisting of Stampede's original creamy vegetable soup, homemade buttery biscuit, a whole rotisserie chicken, hickory-smoked barbequed pork loin, buttery corn on the cob, herb-basted potato, Stampede's own specialty dessert and unlimited tea, coffee or Coca-Cola® products. Vegetarian and gluten-free meals are available upon request.
Exciting Pre-Show & Holiday Entertainment
Guests are invited to start their fun-filled evening when they arrive early for side-splitting holiday comedy and Christmas classics during the exciting pre-show entertainment included with every Stampede ticket.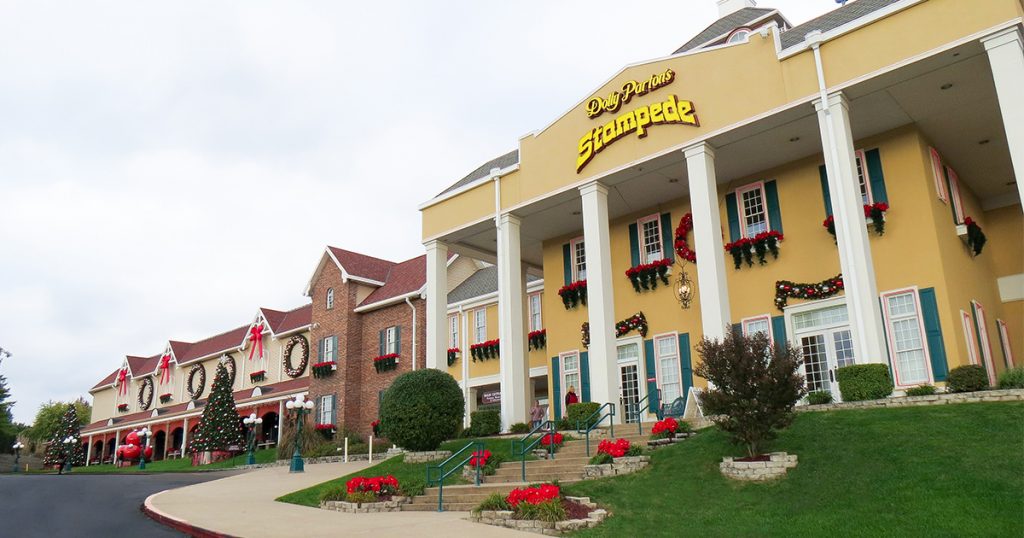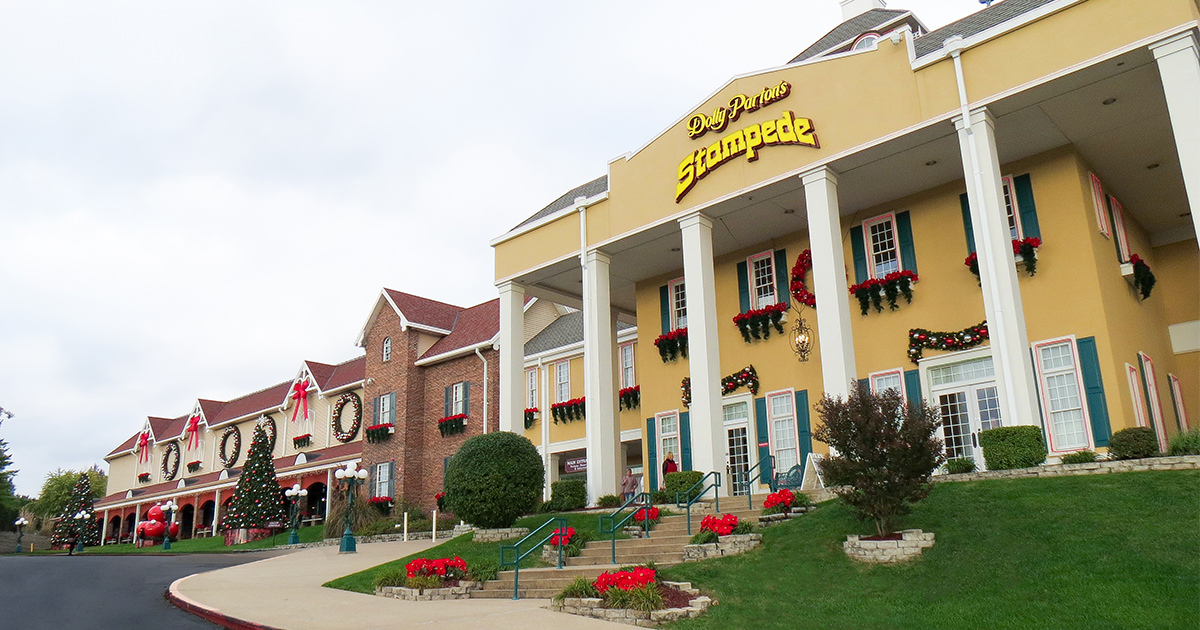 Branson, MO
Christmas at Dolly Parton's Stampede in Branson, MO, runs through January 5, 2019. World-renowned ice skaters Anasztazia Kenyeres and Matthew Scoralle bring a touch of grace to our holiday show with their special presentation,"Adagio On Ice!"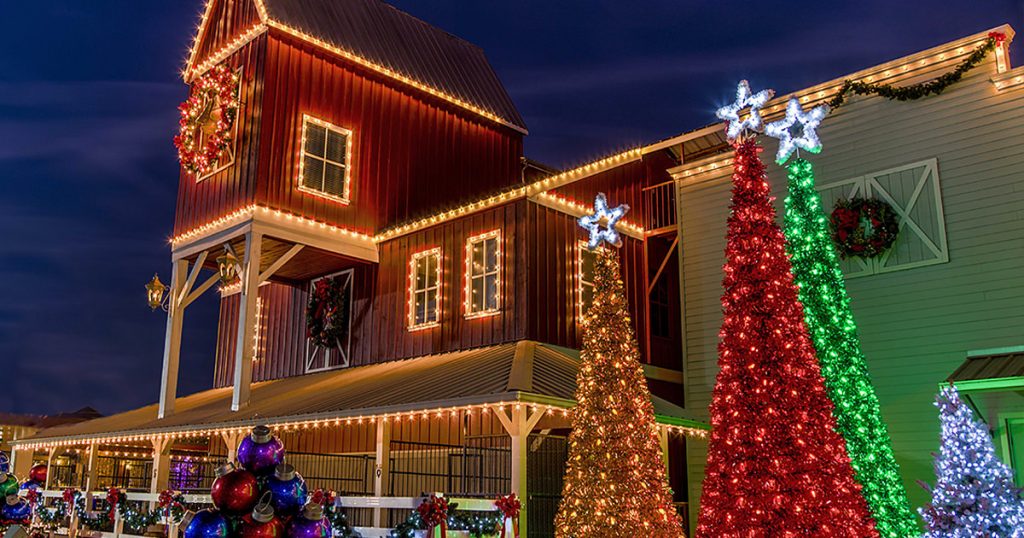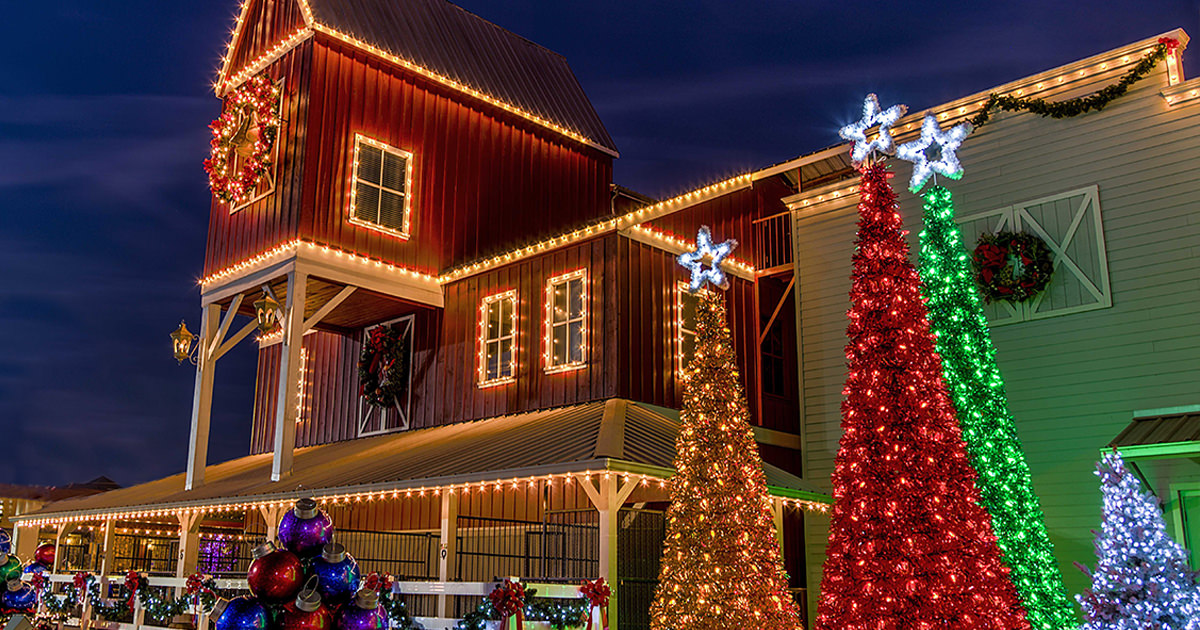 Pigeon Forge, TN
Christmas at Dolly Parton's Stampede in Pigeon Forge, TN, runs through January 5, 2019. Guests can also take advantage of a special Christmas Combo and enjoy Christmas at Dolly Parton's Stampede and Christmas Celebration! Dinner Show!
*"Coca-Cola" is a registered trademark of The Coca-Cola Company.