Dollywood's New Media & Digital Publicist, Amber Davis, takes us on a Wildwood Grove Construction tour!
The construction for Wildwood Grove – Dollywood's largest expansion in park history – is currently underway, and everyone is getting excited for its opening this spring!
"Despite the extremely wet weather, Wildwood Grove construction is on track for its scheduled May opening!" said Amber Davis, Dollywood's new Media & Digital Publicist. "I've said it before, but because it's such a big deal, I'll emphasize it again: this new land is the park's largest expansion since Dollywood opened."
Until now, excited park fans have only seen concept art and read about the 11 new attractions planned for Wildwood Grove. As opening day approaches, Dollywood is sharing a closer look at the progress of this historic expansion. Amber said,
"As we sit three months out, it's time to SHOW you the progress. Yes, you can check the construction cam any time, but I know you'd like to see it closer than a bird's eye view."
Come along with Amber Davis as she takes you on a video tour of Wildwood Grove construction.
[su_vimeo url="https://player.vimeo.com/video/318797372" height="440"]
About the Author: Amber Davis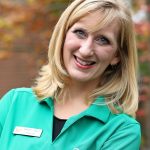 Amber Davis is in the thick of navigating life as a working mom. She regularly balances meetings and tantrums — from her children, not coworkers. Growing up in Knoxville, Amber visited Dollywood and Sevier County often and now loves to share the same experiences with her own young family.