"Last Stop on Market Street," one of the many great titles in Dolly Parton's Imagination Library lineup for 2016, wins this year's Newbery Medal, the highest honor in children's literature.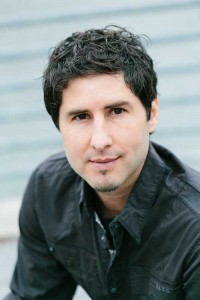 In 2016, "Last Stop on Market Street" received the coveted Newbery Medal. Each year the American Library Association selects one book as the most distinguished American children's book. "Last Stop on Market Street" is only the second picture book to receive the award. In addition to the Newbery, it earned a Caldecott Honor and a Coretta Scott King Illustrator Honor. Before any of these, the Imagination Library Blue Ribbon Book Selection Committee chose it.
Author, Matt de la Peña was pleased the Imagination Library had an early interest in the book and impressed with the program's incredible reach. He shared his appreciation for the Imagination Library, his approach to diversity, his response to winning the Newbery and much more in an in-depth interview.
Quick facts about author, Matt de la Peña
He went to college on a basketball scholarship.
He has authored 10 books, but only two are picture books - the rest are novels.
He grew up in San Diego, CA and now lives in Brooklyn, NY.
He likes to read Middle Grade and Young Adult books with strong female lead characters because of his daughter.
He plays guitar.
His favorite Dolly Parton movie is Steel Magnolias - despite being a "machismo" guy.
He is the first Latino man to win the Newbery Medal.
Imagination Library Interview with Matt de la Peña
Q. From where did you get your inspiration for "Last Stop on Market Street?"
A. I was thinking about this idea that all these young kids are told what they should want and how they think life should be. Around that time, my agent, he sent me an email and said, "Hey, I want you to check out this new illustrator I'm about to sign. His name is Christian Robinson. Here's his blog, it's called 'The Art of Fun.'" There were a lot of illustrations on the blog. One of them was a boy on the bus with his grandmother. I said, "Wow, I really love that one." So I spent the next few months trying to figure out what the story would be around that illustration.
Q. How did you react when you found out "Last Stop on Market Street" received the Newbery Medal?
A. I was completely shocked, and I still am. I was unaware that picture books could even be considered. You don't think it's possible for those kind of things to happen to you. I believe I threatened to kiss [the committee member who delivered the news] and all the other committee members.
Q. How do you feel about being the first Latino man to receive the Newbery Medal?
A. I'm a Mexican-American person, but I'm also bi-racial, I'm half white as well. I view myself as a Mexican writer, but I also write about feeling a little less Mexican than the rest of my family. It was a really powerful moment because I've always wanted to feel more a part of the community and the fact that I could bring a Newbery to the community, it just made me think of the incredible Latino and Latina authors that I've read and how this is for our community as much as it is for me.
Q. What did you think about the honor of being picked for Dolly Parton's Imagination Library?
A. I think it's amazing. I think the mission that you guys have is what the book's all about.
Q. In the book, Nana shows CJ how to see the best in people and situations. In your life, who or what influenced you to see the good in people and circumstances?
A. If I had to name one person who did that, it would be my grandmother. Her first language was Spanish, so she sometimes didn't feel super comfortable with her English, but she would always be there. If good things happened to me or if bad things happened to me, she would always do the same thing, she would pat my knee and give me this look that said: "It's all going to be just fine."
Q. Can you share with us your thought process in how you created CJ's voice in the book?
A. Sure, because this was a big decision. I wanted to be authentic, and I wanted to be true to who this kid was, mostly his frustration. Here's what I decided, I would rather record, basically onto the page, what I hear as opposed to trying to correct his English to be a teaching tool for parents and teachers. I just wanted to be as honest as possible.
Q. Can you recall a moment from your childhood when you saw something that you wanted, but it seemed as unattainable to you as the iPod was to CJ?
A. The biggest way that I felt that is college, I went to a school where nobody talked about college much. I grew up in a community where nobody talked about college. I thought people like us just didn't go to college.
Q. How do you share your love of reading with your daughter?
A. We read to her non-stop. My daughter is a reluctant eater. She doesn't really love food. She eats because she is supposed to eat. So we've developed this routine where if we read her books she'll eat all her dinner. So we read to her for an hour during dinnertime, and we read to her before bed.
Q. Has your daughter inspired any stories that we might see in print soon?
A. She's made me want to write more picture books because I see the magic of picture books. Watching her stare at the pictures and be hanging on every word and then watching her take the book and pretend that she's reading by herself... it's really one of the most incredible things about being a parent.
Q. In your essay, "Sometimes The 'Tough Teen' Is Quietly Writing Stories" you tell an inspiring story about your father and how books transformed him. How did you think your life would have been different had your dad found his love of reading and books when you were a child?
A. Looking back, I love the way it all evolved. My parents, I feel are lucky too because they're still pretty young, because they had kids so young so they're having this second life as educated people on the backend. It's really amazing to see. One of the things my mom always says is that my dad is a better husband.
BOOK SPOILER ALERT
Q. The guitar player seems to bring the shift in CJ's view of his environment. Is music a big part of your life?
A. It's a huge part, as a matter of fact, I've played guitar for probably 30 years. I'm still not that good, but I play it all the time. I think music is communication without words. In an interesting way, that's what my career is all about, the music of language.
Q. At the end of the book, we discover CJ and Nana are on their way to volunteer to serve food to others. Do you have a volunteer spirit?
A. I really wanted to show, here's two people - they don't have enough money to have a car, and they're riding the bus to a soup kitchen. I wonder if the audience is going to assume that they're going there to eat, and I wanted to flip perception and say, "hey these people who don't have much are going to serve." So for me personally, that super important. One of my favorite parts of my job is that I get to go to underprivileged schools and talk to kids. That's a really really powerful part of my career.
Follow Dolly Parton's Imagination Library for more author interviews and the latest news.
See the full list of 2016 Imagination Library books.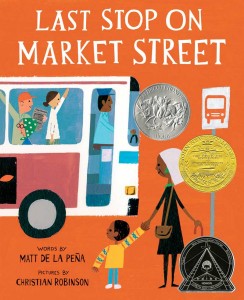 Publisher Credit:
"Last Stop on Market Street" is published by G. P. Putnam and Sons, a division of: Penguin Random House, 375 Hudson Street, New York, NY 10014. Used with Permission
Copyright Notice:
Text Copyright © 2015 by Matt de la Peña, Illustrations Copyright © 2015 by Christian Robinson. All rights reserved.