This year marks the 30th anniversary of both Dollywood and the yearly homecoming celebration honoring everyone's favorite hometown girl, Dolly Parton. Crowds line the streets of Pigeon Forge, Tenn., to see beautiful floats, hear lively bands and, of course, to welcome Dolly back home.
As Grand Marshal, she rides atop a lavish float. In past years, her parade floats have featured some of Dollywood's newest attractions including Mystery Mine, Wild Eagle, FireChaser Express and Dollywood's Splash Country's RiverRush.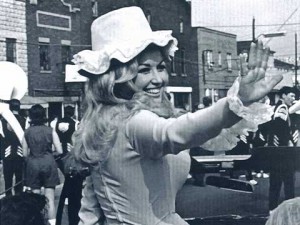 The entire Pigeon Forge community comes together to wow crowds of over 50,000 visitors including Dolly's Dixie Stampede. The Dixie Stampede Dinner Attraction float is another fan favorite displaying the sights and sounds of "The Most Fun Place to Eat!"
This year also marks two additional milestones. Dollywood's DreamMore Resort will open later this summer and Dolly Parton's Imagination Library is celebrating its 20th year as well. Surely, with all these landmark occasions there is cause for celebration and what better way to celebrate than with a parade!
Dollywood works with The Pigeon Forge Office of Special Events to organize the event. The parade begins at 6 p.m. The route starts at traffic light #6 and travels north on the Parkway ending at traffic light #3.