NBC's "The Voice" welcomes back one of it's most popular guests, Dolly Parton on Nov. 29.
Dolly Parton will make a special guest appearance on NBC's "The Voice" on Nov. 29 where she will perform "Circle of Love" with Jennifer Nettles from her new movie set to air the following night. Dolly and the a cappella group Pentatonix will also join Miley Cyrus in a special performance of "Jolene."
Miley Cyrus, Dolly's goddaughter, has enjoyed an exciting season as a coach alongside Blake Shelton, Alicia Keys, Adam Levine and host Carson Daly.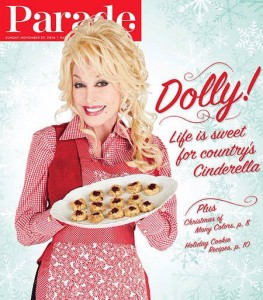 Dolly's appearance on "The Voice" is just part of several guest spots in support of the new film. Dolly will grace the cover of the Nov 27th issue of "Parade" magazine and will have a feature in "US Weekly." She will appear on "The REAL," a daytime syndicated talk show on Nov. 30. Plus, viewers can catch Dolly on "Christmas In Rockefeller Center" which airs on NBC at 8 p.m. EST/7 p.m. CST, Nov. 30 just before the world premiere of "Dolly Parton's Christmas of Many Colors: Circle of Love."
Jennifer Nettles, Ricky Schroder, Gerald McCraney and Alyvia Alyn Lind will co-star in the upcoming holiday movie "Dolly Parton's Christmas of Many Colors: Circle of Love" airing Wednesday, Nov. 30 at 9 p.m. EST/8 p.m. CST with Dolly Parton making a special guest appearance. In the two-hour movie, the Partons, a family of humble means living in the mountains of East Tennessee, face a devastating event that challenges their will. But when they experience a bewildering Christmas miracle, the Partons are drawn closer together than ever — with deepened faith and love for one another.