Dolly presents a Kansas teacher with the 2015 Chasing Rainbows Award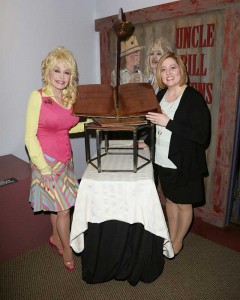 Dyane Smokorowski was named the 14th recipient of the Chasing Rainbows Award. She enjoyed a weekend trip to Dollywood where Dolly herself presented Dyane with the award. Each year, the National Network of State Teachers of the Year (NNSTOY) honors one outstanding educator with this prestigious award. The honoree is someone who "has overcome great obstacles in his or her life, has captured the rainbow and is helping children." This year's winner serves as the Instructional Technology Coach for Andover Public Schools in Andover, KS. Smokorowski said,
"It is difficult to admit that my personal struggles actually prepared me to be a stronger person today. I wanted to be someone who could inspire others to reach beyond their environments, beyond their extremities, and to do as I have always done—to dream big!"
In 2002, Dolly became the first to receive this award from the NNSTOY. The award celebrated her commitment to fostering a love of reading among children through her Imagination Library. Since then, Dolly has presented the award each year.
Dyane Smokorowski's name will be added, along with past recipients, to the award displayed in the Chasing Rainbows Museum at Dollywood.
For more information on the award and how to nominate an outstanding teacher, visit the NNSTOY website.