Exclusive Christmas on the Square interviews, word-play, bonus videos and more on Dolly's Front Porch
Starring Dolly Parton, Christine Baranski, Jenifer Lewis, Treat Williams and directed and choreographed by three-time Emmy and Golden Globe winner Debbie Allen, Christmas on the Square features 14 original Dolly songs in what is sure to become a new holiday classic.
In these one-on-one interviews from The Front Porch, the cast and crew share special memories from on and off the set. Director and Choreographer Debbie Allen was overjoyed to slip back into her musical theater shoes. Christine Baranski welcomed the role of yet another "Christmas Scrooge" as long as it was opposite an angel played by Dolly Parton. And Jenifer Lewis hopes this film will fill everyone's hearts with some Christmas joy during a time when we may need it most. Everyone has a "Dolly Story" and within these interviews, this loveable cast shares how they forged lasting friendships while making the film.
Bonus Interviews
Exclusive Interviews
Multi-award winning actress, Christine Baranski, plays the leading role of Regina Fuller in Christmas on the Square.
Tony and Emmy award-winning actress, singer and producer, Christine Baranski, has an incredibly busy work schedule, but she jumped at the chance to collaborate with Dolly Parton in her new Netflix Christmas special. Baranski
reveals,
"People asked me how I came to the project, and I said, 'Two words—Dolly Parton.' …I just thought I would so love to get to know Dolly Parton as a human being, as a woman."
A veteran of both stage and screen, Baranski has played a wide array of characters throughout her career. She currently stars as Diane Lockhart in the hit television series The Good Fight. Notorious for being cast in Christmas movies as the not-so-nice modern-day Scrooge type, her part in Christmas on the Square is certainly reminiscent of those characters.
When asked about her lead role in the new Netflix special, she explains,
"It's a little daunting that I had to play the role, because she is so darn mean. I seem to only play meanies in Christmas movies."
Her character, Regina Fuller, is a cold-hearted, wealthy woman who returns to her hometown of Fullerville after her father passes away. She is on a mission to force all of her father's tenants out of their homes, so she can close a real estate deal with a mall developer. Instead, she finds herself reconnecting with people from her past and having an unexpected encounter with an angel (played by none other than Dolly herself), giving her an opportunity to have a change of heart.
"She comes across mean, but she really just feels she's doing the right thing," Baranski shares. "It's really a wonderful human journey, and I think we like seeing characters like that. We like seeing people who are redeemed in the end."
The story of redemption in Christmas on the Square serves as a beautiful reminder that the most valuable gifts we can give are treasures that money cannot buy. It's a message of hope that renews our faith in the human spirit and affirms the fact that change for the better always begins in the heart.
Fan Fact
Christine Baranski has a great love of music. Among her favorites are baroque and classical, and she says there is nothing better than Motown!
Dolly Parton's Christmas on the Square
Seasonal cheer comes to a screeching halt when a cold-hearted woman tries to sell her hometown's land. Can music, magic and memories change her mind? Find out in Dolly Parton's Christmas on the Square coming to Netflix on November 22, 2020. Starring Dolly Parton, Christine Baranski, Treat Williams and Jenifer Lewis, this new holiday musical features 14 original Dolly songs. It's sure to become a holiday hit for years to come.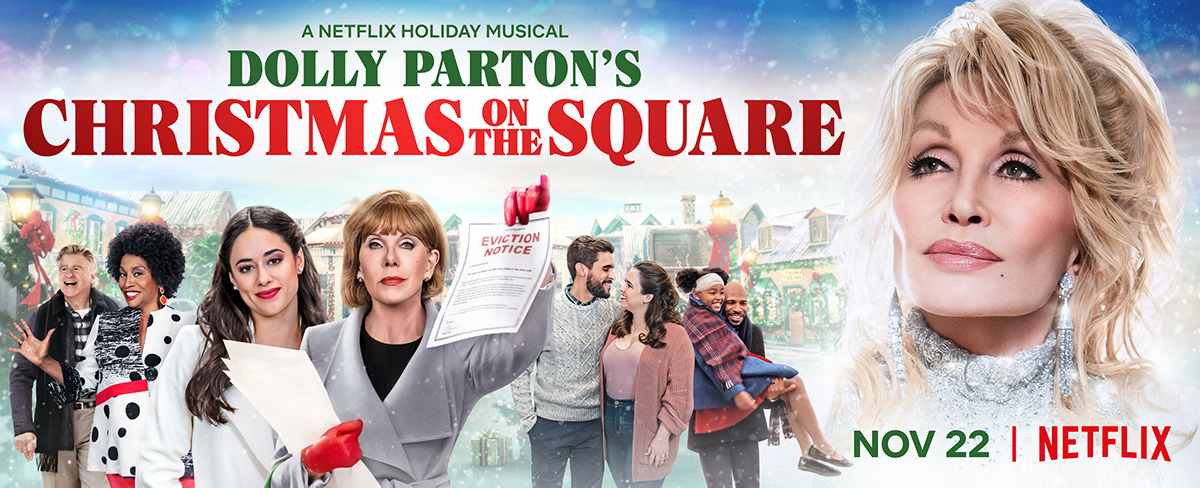 A Netflix Holiday Musical "Dolly Parton's Christmas On The Square"
"Dolly Parton's Christmas on the Square" is an all-new holiday musical premiering on Netflix on November 22, 2020. A rich and nasty woman, Regina Fuller, returns to her small hometown after her father's death to evict everyone and sell the land to a mall developer - right before Christmas. However, after listening to stories of the local townsfolk, reconnecting with an old love, and accepting the guidance of an actual angel, Regina starts to have a change of heart. This is the story about family, love, and how a small town's Christmas spirit can warm even the coldest of hearts. Starring Dolly Parton, Christine Baranski, Jenifer Lewis, Treat Williams, and directed and choreographed by three-time Emmy and Golden Globe winner Debbie Allen. Featuring 14 original songs by Dolly Parton.
"Dolly Parton's Christmas on the Square" is produced by Magnolia Hill Productions and Sandollar Productions in association with Warner Bros. Television for Netflix. Executive Producers include Sam Haskell, writer Maria Schlatter, Debbie Allen, and Dolly Parton.
"Dolly Parton's Christmas on the Square" Full Cast
Nine-time Grammy winner DOLLY PARTON will play "ANGEL."
A funny, strong, loving and "in charge" Angel, made of blonde hair, white chiffon, light, and love. Angel enters Regina Fuller's life to help her find forgiveness, the truth and ultimately happiness.
CHRISTINE BARANSKI (The Good Fight; Mamma Mia!) will play "REGINA FULLER."
A force of nature and owner of the town of Fullerville, where the story's set. Regina's an embittered scrooge, who is shown by Angel, the truth of her past, which leads her on a path to redemption.
JENIFER LEWIS (Black-ish, What's Love Got to Do with It) will play "MARGELINE."
A spitfire with a great sense of humor, she's the owner of Le Beauty Shop on the town square, and is the closest thing Regina has to a friend.
TREAT WILLIAMS (Hair; Everwood) will play "CARL."
The proprietor of the square's General Store, who has had a soft spot in his heart for Regina since high school. He loves his town and hopes to bring it back to its former glory.
JOSH SEGARRA (Arrow; AJ and the Queen) will play "PASTOR CHRISTIAN HATHAWAY."
The resident man of the cloth who is married to the love of his life Jenna. As they struggle to have a baby, he leads the town's resistance against Regina's selfish plans.
JEANINE MASON (Roswell, New Mexico; Grey's Anatomy) will play "FELICITY."
An angel-in-training who needs to "earn her wings" in the spirit of Clarence Odbody from It's a Wonderful Life.
MARY LANE HASKELL (Dolly Parton's Heartstrings; Coat of Many Colors ) will play "JENNA HATHAWAY."
A resilient wife and calming voice within the town of Fullerville, she's married to Pastor Christian and always counts her blessings.
MATTHEW JOHNSON (American Idol; Alvin Ailey American Dance Theater) will play "MACK."
A single father who owns the town bar, The Lamplighter Inn. He loves his daughter Violet, and does his best to raise her on his own.
SELAH KIMBRO JONES (Hidden Figures; Star) will play "VIOLET."
Mack's daughter who, like Regina, was raised without a mother.