Exclusive Christmas on the Square interviews, word-play, bonus videos and more on Dolly's Front Porch
Starring Dolly Parton, Christine Baranski, Jenifer Lewis, Treat Williams and directed and choreographed by three-time Emmy and Golden Globe winner Debbie Allen, Christmas on the Square features 14 original Dolly songs in what is sure to become a new holiday classic.
In these one-on-one interviews from The Front Porch, the cast and crew share special memories from on and off the set. Director and Choreographer Debbie Allen was overjoyed to slip back into her musical theater shoes. Christine Baranski welcomed the role of yet another "Christmas Scrooge" as long as it was opposite an angel played by Dolly Parton. And Jenifer Lewis hopes this film will fill everyone's hearts with some Christmas joy during a time when we may need it most. Everyone has a "Dolly Story" and within these interviews, this loveable cast shares how they forged lasting friendships while making the film.
Bonus Interviews
Exclusive Interviews
As Jenna Hathaway, Mary Lane Haskell shines and credits the magic of the film to the outstanding cast and crew.
With her mutual love of musical theatre and all things Dolly Parton, Mary Lane Haskell immerses herself into the role of the faithful and eternally optimistic Jenna Hathaway in Dolly Parton's Christmas on The Square.
Mary Lane Haskell grew up in California and caught the entertainment bug at an early age. She attributes much of her affinity of showbusiness to her actress mother, Mary Donnelly Haskell. As a child, Mary Lane looked up to her mom who appeared on many TV shows including 7th Heaven and Saved by the Bell: Wedding in Las Vegas. And who could blame her? What little girl wouldn't want to grow up to be just like her beautiful and talented mom, who happens to play Lenore in Christmas on The Square?
By the age of five, Mary Lane received her first role as "homeless child" in a Disney Channel Original Movie. Sure, it might have seemed like a first step, but to the sassy girl with the big brown eyes, it was the start of a lifelong love affair with film, television and musical theater.
In this exclusive Front Porch interview, Mary Lane talks about her role as Jenna Hathaway in Dolly Parton's Christmas on The Square. As the pastor's wife, she plays opposite Josh Segarra (Pastor Christian Hathaway). The self-proclaimed "rebel-rouser" admitted she enjoyed playing the sweet, calming wife in the film. Mary Lane also discusses the rewards she received while working with director Debbie Allen and veteran actors Treat Williams (Carl Pellam), Jenifer Lewis (Margeline) and Christine Baranski (Regina Fuller). Mary Lane said,
"Work is a blessing no matter how it comes. But when you get to work with people who are like-minded and just good, generous, kind people that's where the magic happens. And I think that's where the magic of Christmas on The Square really comes from."
On-Screen With Dolly
The film marks a lot of firsts for the young actress. She has appeared in three films associated with Dolly Parton, however, Christmas on The Square was her first chance to sing with Dolly on camera. A special moment she will always cherish. In recapping it, Mary Lane said,
"As a little eight-year-old singing along, you don't really realize you are singing along with an icon. So, for me, all these years later…to look through that window and sing with her was just an absolute dream come true."
Christmas Memories
In the interview, Mary Lane also recalls her favorite holiday memory that involved the California girl getting her "first winter coat" for a treasured family Christmas in New York City when she was just five years old. On that trip, her parents took her to see the Radio City Rockettes, likely sealing her fate as a future actress and singer. And while she might still have stars in her eyes for film and stage, Mary Lane remains deeply grounded to her family.
During one musical number, Mary Lane's character takes the hand of Lenore, played by Mary Donnelly Haskell. It's the first time the mother and daughter have had the opportunity to work together and it proved to be a heartwarming moment for everyone. Mary Lane said,
"I learned how to do what I do, watching my mother. And so to get to be there doing it with her was really, really special."
Fan Fact
Not only did Mary Lane star as Miss Moody in Dolly Parton's Coat of Many Colors and Dolly Parton's Christmas of Many Colors: Circle of Love, she also played Helen Cunningham in the "Down from Dover" episode of Dolly Parton's Heartstrings.
Dolly Parton's Christmas on the Square
Seasonal cheer comes to a screeching halt when a cold-hearted woman tries to sell her hometown's land. Can music, magic and memories change her mind? Find out in Dolly Parton's Christmas on the Square coming to Netflix on November 22, 2020. Starring Dolly Parton, Christine Baranski, Treat Williams and Jenifer Lewis, this new holiday musical features 14 original Dolly songs. It's sure to become a holiday hit for years to come.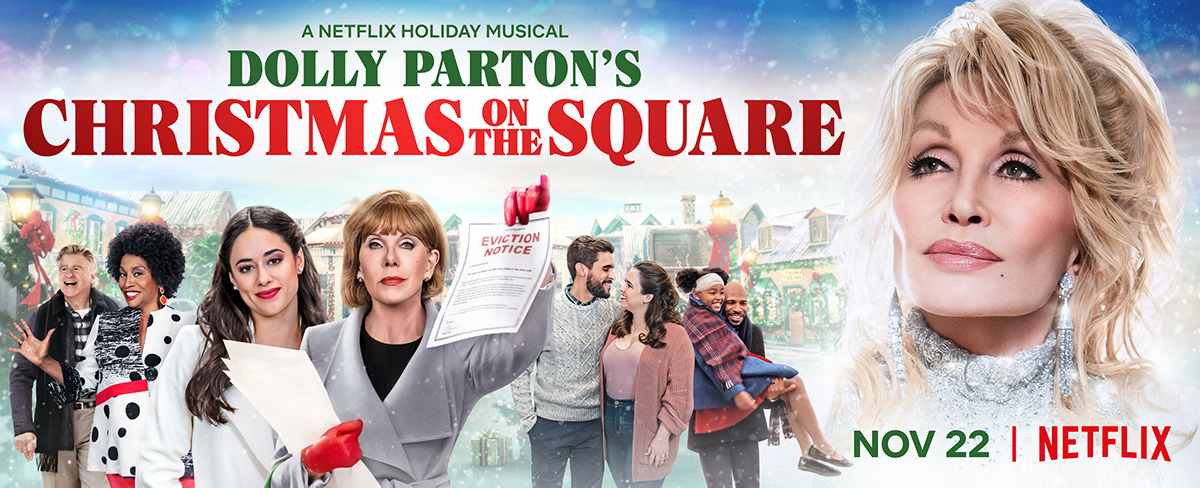 A Netflix Holiday Musical "Dolly Parton's Christmas On The Square"
"Dolly Parton's Christmas on the Square" is an all-new holiday musical premiering on Netflix on November 22, 2020. A rich and nasty woman, Regina Fuller, returns to her small hometown after her father's death to evict everyone and sell the land to a mall developer - right before Christmas. However, after listening to stories of the local townsfolk, reconnecting with an old love, and accepting the guidance of an actual angel, Regina starts to have a change of heart. This is the story about family, love, and how a small town's Christmas spirit can warm even the coldest of hearts. Starring Dolly Parton, Christine Baranski, Jenifer Lewis, Treat Williams, and directed and choreographed by three-time Emmy and Golden Globe winner Debbie Allen. Featuring 14 original songs by Dolly Parton.
"Dolly Parton's Christmas on the Square" is produced by Magnolia Hill Productions and Sandollar Productions in association with Warner Bros. Television for Netflix. Executive Producers include Sam Haskell, writer Maria Schlatter, Debbie Allen, and Dolly Parton.
"Dolly Parton's Christmas on the Square" Full Cast
Nine-time Grammy winner DOLLY PARTON will play "ANGEL."
A funny, strong, loving and "in charge" Angel, made of blonde hair, white chiffon, light, and love. Angel enters Regina Fuller's life to help her find forgiveness, the truth and ultimately happiness.
CHRISTINE BARANSKI (The Good Fight; Mamma Mia!) will play "REGINA FULLER."
A force of nature and owner of the town of Fullerville, where the story's set. Regina's an embittered scrooge, who is shown by Angel, the truth of her past, which leads her on a path to redemption.
JENIFER LEWIS (Black-ish, What's Love Got to Do with It) will play "MARGELINE."
A spitfire with a great sense of humor, she's the owner of Le Beauty Shop on the town square, and is the closest thing Regina has to a friend.
TREAT WILLIAMS (Hair; Everwood) will play "CARL."
The proprietor of the square's General Store, who has had a soft spot in his heart for Regina since high school. He loves his town and hopes to bring it back to its former glory.
JOSH SEGARRA (Arrow; AJ and the Queen) will play "PASTOR CHRISTIAN HATHAWAY."
The resident man of the cloth who is married to the love of his life Jenna. As they struggle to have a baby, he leads the town's resistance against Regina's selfish plans.
JEANINE MASON (Roswell, New Mexico; Grey's Anatomy) will play "FELICITY."
An angel-in-training who needs to "earn her wings" in the spirit of Clarence Odbody from It's a Wonderful Life.
MARY LANE HASKELL (Dolly Parton's Heartstrings; Coat of Many Colors ) will play "JENNA HATHAWAY."
A resilient wife and calming voice within the town of Fullerville, she's married to Pastor Christian and always counts her blessings.
MATTHEW JOHNSON (American Idol; Alvin Ailey American Dance Theater) will play "MACK."
A single father who owns the town bar, The Lamplighter Inn. He loves his daughter Violet, and does his best to raise her on his own.
SELAH KIMBRO JONES (Hidden Figures; Star) will play "VIOLET."
Mack's daughter who, like Regina, was raised without a mother.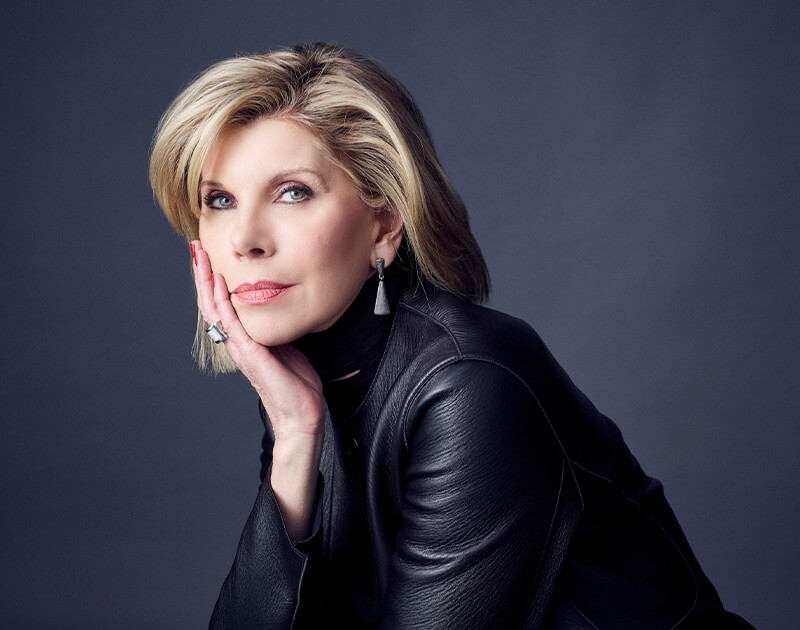 Meet the stars of "Dolly Parton's Christmas of Many Colors: Circle of Love"
The stars of Dolly's new NBC movie talk about the new film, share their Christmas wishes for the holiday season and much more.
"Dolly Parton's Christmas of Many Colors: Circle of Love" will air on NBC on Nov. 30 in a special two-hour movie event. The cast of the all new holiday film is excited about the sequel to last year's record-breaking hit. They've generously taken time out of their busy post-production schedules to share their thoughts on the new movie, what it was like to reunite with their co-stars and even shared their special Christmas wishes.
Watch interviews with the stars of "Dolly Parton's Christmas of Many Colors: Circle of Love" including: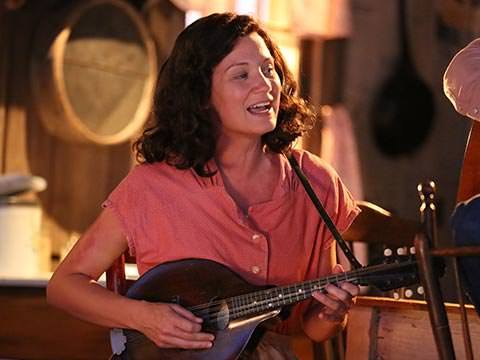 Mary Lane Haskell plays the role of Dolly Parton's teacher in the new NBC movie airing on Dec. 10.
Mary Lane Haskell portrays Miss Moody, Dolly's teacher, in "Dolly Parton's Coat of Many Colors." The young actress shares her favorite Dolly song and talks about how Stella Parton's presence on-set impacted her.
[masterslider id="40"][su_spacer]
Q. As you started to develop your character, what things about Miss Moody stood out or perhaps surprised you?
A. Miss Moody got out, she went to school, she educated herself. She had a hunger for learning but, most importantly, she had a passion for coming back home and sharing that learning with these kids. That was something that I loved learning about her.
Q. The Parton family is known for their tight-knit bonds. While filming, did the cast develop similar family-like relationships?
A. Oh Yes! It was about a 20-day shoot, we were all there living in this little hotel in Conyers, GA. It had a pool out back and after a long day of shooting, everybody would go out back and swim in the pool. We'd have movie nights where we'd all get together and watch movies in one of our hotel rooms, and we did become a family. We all miss each other. We're all very connected on social media still.
Q. Considering everything you have done in your career, where does this role rank in your list of achievements?
A. As far as acting achievements, especially television, I would consider it my big break. I lived in New York for eight years, and I did a lot of singing work. I debuted at Carnegie Hall when I was 18 and had sung all over New York in concert venues. This was the first time that I've had a character that stuck around for the whole thing. It really was incredible and what I'm hoping will be a career-defining role for me. I loved every moment of it, and I feel very, very blessed.
Q. The song "Coat of Many Colors" first debuted in 1971, yet it still has a powerful message for people today. Why do you think people relate so well to this story?
A. I think it's because there are so many facets of the story. Of course, there are the people who experience the poverty and the struggle that the Parton's faced in 1955. They hear how Dolly rose above it.
I was bullied as a child. [I thought] if Dolly Parton can be bullied and become what she has become, then what's going to stop me from achieving my dreams? If you know who you are and you like who you are and you have a family you love and that supports you in your dreams, then you can achieve anything. I think that's something that I always related to as a child listening to "Coat of Many Colors."
Q. Other than "Coat of Many Colors" do you have a favorite Dolly song?
A. That's almost an impossible question because I have so many favorite Dolly Parton songs, but I would have to say "The Seeker" is probably my all-time favorite. I think it's such a great message about no matter where we are in our lives, no matter how successful or no matter what's going on, we have to remember that we're all just seekers. We're all just looking to do right by the Man from which all blessings flow.
Q. What was your favorite moment of making the film or your favorite takeaway?
During the final scene, I was sitting next to Miss Stella Parton. Miss Stella was moved on a different level. In that moment, I realized this was something from her life that actually happened in her life, and watching her react to seeing it unfold again in such an authentic way was so special.
See more cast interviews and tune in Thursday, December 10 at 9/8c on NBC to watch Mary Lane Haskell as Miss Moody in "Dolly Parton's Coat of Many Colors."
Important Links: